America's Best and Brightest Are Headed to Boulder
By and
Cumberland, Maryland, leads areas losing white-collar jobs

Boulder, Colorado, tops Bloomberg Brain Concentration Index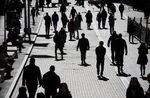 The industrial city of Cumberland, Maryland, tucked in the Appalachians, illustrates the economic despair that helped Donald Trump win the U.S. presidency -- as well as efforts to alleviate it.
Cumberland tops the Bloomberg Brain Drain Index, which tracks metropolitan areas with the greatest loss of advanced-degree holders, white-collar jobs and earnings generated by employment in computer, engineering and science occupations. Once a thriving coal-mining and manufacturing center -- two sectors of the economy Trump pledged to revive -- Cumberland has struggled to draw new businesses.
"We are no longer defining ourselves as what we used to be," said Shawn Hershberger, executive director of the Cumberland Economic Development Corp., which has worked to attract technology and tourism employers.

At the other end of the spectrum, Boulder, Colorado, a tech incubator and home of the University of Colorado, leads the 2016 Bloomberg Brain Concentration Index. It measures per-capita concentration of residents working in science, technology and engineering occupations or who have science and engineering college degrees or post-graduate degrees. Key industries in the metro area include aerospace, bio-science and renewable energy, along with information technology and software. It also is home to federal laboratories such as the National Institute of Standards and Technology.
"The public-sector presence contributed to the brains," said Clif Harald, executive director of the Boulder Economic Council.
The two indexes illustrate the difficulty cities such as Cumberland face in creating new jobs, with modern manufacturing and mining driven more by technology than human muscle. A brain drain also reduces a city's tax base, needed to maintain infrastructure, education and services to lure new businesses.
Business Incentives
Once the terminus of the Chesapeake and Ohio Canal, Cumberland's heyday was the 19th century through the 1940s. Since then it has had to reorient itself. The economic development corporation's recent ChooseCumberland.org campaign offers business incentives including workforce training and development through local colleges, a loan pool and tax credits for job creation and investment.
The area also has retained some manufacturing, including National Jet Co., a precision-drilling company that's stayed there for 79 years, mainly because of its specialized workforce, according to President R. Samuel Griffith.
"We have people who have been with us 30 to 40 years," he said, adding his business has 25 employees.
Even with this dedication, the city's population dropped 3.4 percent to 20,130 from April 1, 2010, to July 1, 2015, according to the Census Bureau. Surrounding Allegany County also experienced a 3.4 percent loss to 75,528. Participation in the metro area's labor force -- people working or actively seeking work -- was 49.7 percent last year compared with 63.1 percent nationally.
Out-State Recruiting
"We do have challenges finding very experienced individuals locally," said Jonathan Hutcherson, president of Exclamation Labs in Cumberland, a leader in the effort to revive the city. His web-applications development company employs 25 people and has had to recruit talent from other states.
The other four metropolitan areas suffering the greatest brain drain are the former steel-mill town of Pueblo, Colorado, followed by Valdosta, Georgia; Goldsboro, North Carolina; and Muskegon, Michigan.
Boulder's population rose 10.1 percent to 107,349 from April 1, 2010, to July 1, 2015, with surrounding Boulder County experiencing an 8.4 percent increase to 319,372. The metro area's labor-participation rate, at 68.8 percent, was higher than the national rate last year.
Following Boulder on the list of the top five metro areas with the greatest brain concentration are technology savvy San Jose, California; the university towns of Ann Arbor, Michigan, and Ithaca, New York; and Washington.
Before it's here, it's on the Bloomberg Terminal.
LEARN MORE