Higher Crude Seen Buying Time for Gulf Arabs to Kick Oil Habit
by
Rebound in prices gives 'breathing space' for reforms: IMF

Fund forecasts budget deficits for most GCC states in 2017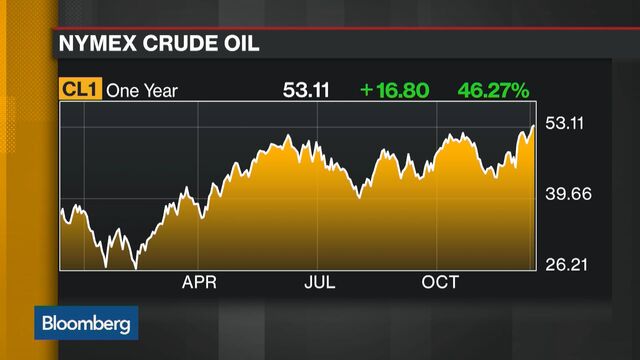 Gulf Arab nations that rely on energy for most of their revenue will benefit if oil prices rise, though their long-term fiscal health hinges on how well they use this opportunity to wean their economies off crude, an International Monetary Fund official said.
Saudi Arabia, the world's biggest oil exporter, and its Arab neighbors have drawn up plans to diversify their economies since benchmark Brent crude tumbled from more than $115 a barrel in June 2014 to as little as $28 in January. Brent has staged a partial recovery, trading Wednesday at about $55, and while this may make reforms less difficult, the need for restructuring remains crucial, said Natalia Tamirisa, an IMF economist.
The price rally "has provided some breathing space, has eased financial pressure on these countries," Tamirisa said Wednesday at a conference in Dubai. Even so, "oil exporting countries will continue to run fiscal deficits in the medium term," she said.

The six members of the Gulf Cooperation Council, led by Saudi Arabia, participated in a deal among OPEC members and other major producers such as Russia to pump less oil to end a global glut and shore up prices. Their efforts pushed crude above $55 per barrel for the first time since July 2015. Kuwait is the only GCC country that can balance its budget at this price next year, as it's the sole member with a break-even price below $60 dollars a barrel, according to IMF data released in October.
Saudi Arabia, the United Arab Emirates, Kuwait and Qatar are members of the Organization of Petroleum Exporting Countries. Oman and Bahrain are among the non-OPEC producers that agreed with OPEC on Dec. 10 to participate in the collective output cuts. GCC countries account for almost half of the pledged reduction in supply, due to take effect on Jan. 1.
Strengthened Finances

The agreement between OPEC and non-OPEC producers has already strengthened the finances of oil exporters. Most participants will cut production by less than 5 percent, while prices have climbed more than 18 percent since Nov. 30 when OPEC met.
Analysts at BNP Paribas SA, Commerzbank AG and Societe Generale SA are among those who expect oil prices to stay at or below $60 per barrel in 2017. While crude may rise above $60 a barrel if OPEC and other nations cut production as promised, a rebound in U.S. shale output would bring prices back to $55, according to a Dec. 11 report from Goldman Sachs Group Inc.
Oil at that price would be too cheap for most GCC nations including Saudi Arabia, which the IMF said will need crude at $77.70 a barrel to balance its budget next year.
"Many countries have already made important progress toward reining in spending to cope with lower oil revenues," Tamirisa said. "Looking ahead, tighter spending would need to be sustained until fiscal positions are on a more sound footing."
Before it's here, it's on the Bloomberg Terminal.
LEARN MORE