The World's Most-Polluted Region Faces a Conundrum
By , , and
Adequate monsoons means more crops and more farm fires

Harvest time coincides with toxic air in North India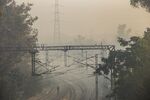 Sandeep Singh Parmar embodies in one man the conundrum facing the most-polluted region in the world.
Parmar, 35, who lives in New Delhi, also has a 180-hectare family farm in the northern state of Haryana. After every harvest, leftover stubble at his farm is burnt, like thousands of others, blanketing north India in a dense, heavy smog that can be seen by satellites and leaves people gasping for breath. This year, the harvest has been particularly good, boosting Parmar's farm earnings. But, in a twist of fate, he's spent most of it buying air purifiers so that his 2 1/2 year-old son can breathe.
"The air has been really bad this year," Parmar said. "My son fell sick and he was wheezing and vomiting and gasping for air because of the pollution."
Parmar's tale shows the dilemma facing India's policy makers and politicians as they seek to tackle the growing menace of pollution. Farmers are a strong electoral constituency, pampered with free power and soft loans. Getting them to change their ways is no easy task. Despite crop burning being banned in the states of Punjab, Uttar Pradesh, Haryana and Rajasthan, which surround New Delhi, the practice continues unabated.
"Disincentives like penalty or putting farmers behind bars without first providing alternatives and incentives becomes politically sensitive," said Anumita Roychowdhury, executive director of research at advocacy group Centre for Science and Environment. "Pressure has been building on state governments to take action but lots of systemic issues need to be fixed before stubble burning can really stop."
Data from the National Aeronautics and Space Administration shows that northern India witnessed about 36 percent more fires in 2016, compared with last year, according to Pawan Gupta, a research scientist at NASA's Goddard Earth Sciences Technology and Research in Greenbelt, Maryland.
Pollution Jumps
Most of India got normal or excess rainfall during the four-month monsoon season starting June 1 after a two-year deficit. The biggest monsoon-sown food crop, rice, was planted in 38.2 million hectares, up from 37.17 million hectares a year earlier, according to data from the agriculture ministry. At the same time, early November readings for toxic particles known as PM 2.5 in New Delhi soared to 850 micrograms per cubic meter in the neighborhood of Anand Vihar in east Delhi, 34 times the World Health Organization's 24-hour mean guideline of 25 micrograms per cubic meter.

On Dec. 15, PM 2.5 levels in New Delhi were at a 'very unhealthy' level of 258 micrograms per cubic meter, according to the U.S. Embassy's Air Quality Index. The same measure ranked Shanghai at 163.
To be sure, stubble burning or festivals such as Diwali, where crackers are burnt, worsen an already bad situation in winters. The trough-like topography of the north Indian region and stiller air prevent pollution from dispersing in colder months.
"On a given day, if the meteorological conditions are favorable, the smoke itself can enhance pollution level many fold," NASA's Gupta said.
India accounted for 14 of the 30 worst-polluted cities in the world, according to WHO data on urban pollution released in May. For farmers like Prithvi Singh, 38, it all just boils down to expense.
"It's costly to clean stubble left in the fields after the harvest as labor cost is very high," said Singh, a paddy and wheat grower in Haryana. "That's why we resort to stubble burning."