Gentiloni Wins Senate Vote to Confirm New Italian Government
by and
New prime minister wins backing of upper house by 169 to 99

EU leaders set to meet new Italian premier at summit Thursday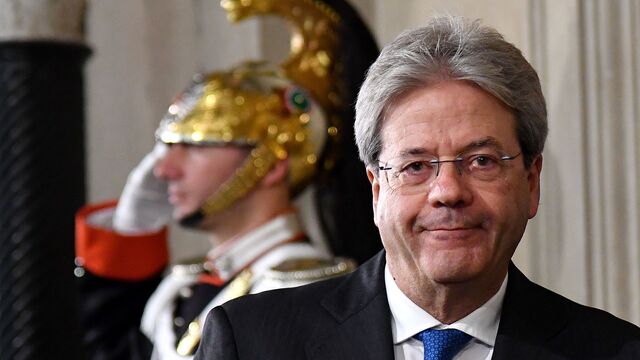 Paolo Gentiloni cleared his last parliamentary hurdle to confirm his position as Italian prime minister, winning a vote of confidence in the Senate.
The upper house voted by 169 to 99 to back Gentiloni's government, following last week's resignation of his predecessor Matteo Renzi. On Tuesday, Gentiloni won the backing of the lower house, where his Democratic Party and its allies have an absolute majority.
Opposition lawmakers including the anti-establishment Five Star Movement stayed away from both the Senate and lower house in protest at Gentiloni's appointment. Five Star called the new administration "a puppet government" manipulated by Renzi, who is staying on as party leader despite quitting as prime minister after defeat in this month's referendum on constitutional reform.
"This is a government which must first and foremost complete the exceptional work of reform and modernization of the last few years," Gentiloni told the Senate before the vote, in a nod to his predecessor's legacy.
Early Elections
Renzi has signaled Italy should hold early elections in the first half of next year and Labor Minister Giuliano Poletti said on Wednesday a ballot in the first half of 2017 after reforming the electoral system was likely.
Gentiloni told the Senate that however long his governments lasts, it was urgent to harmonize the different electoral laws for the two houses of parliament. Mainstream parties want to change the law for the lower house because they fear an automatic majority handed to the leading party could benefit Five Star, which wants a referendum on taking Italy out of the euro.
The new prime minister, who was foreign minister under Renzi, will make his international debut at the European Union summit in Brussels on Thursday. He has pledged to press EU leaders to share responsibility for the migrants crossing the Mediterranean, chiefly to Italy and Greece.
"We don't want to be killjoys, but neither can we be the country which carries the burden of the migration influx for the whole of the EU," Gentiloni told the lower house on Tuesday.
Echoing his predecessor, Gentiloni has vowed to seek a shift in the bloc's focus toward investment to boost economic growth, away from the austerity policies imposed by German Chancellor Angela Merkel.
Before it's here, it's on the Bloomberg Terminal.
LEARN MORE