European Stocks Decline as Caution Prevails on Fed Policy Day
by
Stoxx 600 RSI falls below 70, signaling further declines

Euro Stoxx 50 retreats after entering bull territory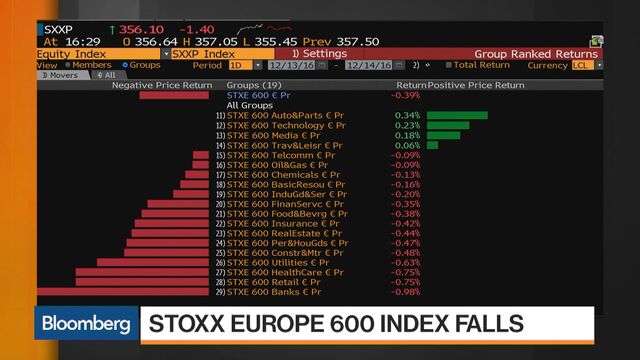 European stocks fell from their highest level since January ahead of the Federal Reserve meeting at which investors are virtually certain officials will raise rates for the first time in a year.
The Stoxx Europe 600 Index fell 0.5 percent at the close. While futures traders are pricing in a 100 percent chance Fed officials will raise borrowing costs in a decision due after the European market close, investors are also looking out for the committee's forward-looking policy views. The regional equity gauge has risen on four of the past five Fed announcement days.
"Investors are traditionally cautious pending clarification from the U.S. Fed -- more so today given expectations for a rate hike as well as updated guidance on further U.S. interest rate hikes, which is likely to influence pricing across all asset classes," Accendo Markets analysts Mike van Dulken and Henry Croft wrote in a note.

Actelion Ltd. was the second-worst performer in the index, tumbling 9.2 percent -- the most since January 2015 -- after Johnson & Johnson said it ended discussions for a potential deal with the Swiss drugmaker. 
Colruyt SA tumbled 9.4 percent for the biggest drop in the Stoxx 600 after reporting retail-sales growth that missed estimates.
All industry groups dropped except automakers, technology and media companies. Banks and retail companies led the declines.
The Euro Stoxx 50 index slid 0.8 percent after yesterday entering a bull market, having climbed 21 percent since a February low.
"Last year the Fed guided the markets to expect at least four rate rises this year, guidance that proved to be woefully wide off the mark, and it is likely that they won't want to make the same mistake again," Michael Hewson, chief market analyst at CMC, wrote in a note. That "suggests that Fed chief Janet Yellen can expect some serious cross examination of how the FOMC view not only the economy, but also President-elect Donald Trump's plans for it," he said, referring to the Fed Open Market Committee.
Before it's here, it's on the Bloomberg Terminal.
LEARN MORE