EU Leaders Hoping 2017 Will Offer Respite Should Look Away Now
By
Brexit, Russia and refugees all on agenda at Brussels summit

Last meeting of the year comes after a turbulent 12 months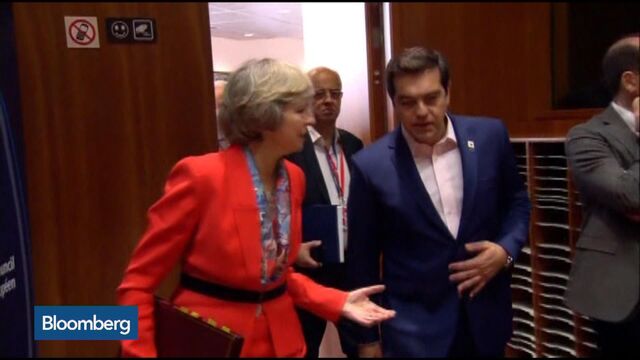 European Union leaders eager to put the bloc's most traumatic year behind them will meet Thursday in Brussels, faced with an agenda full of reminders that 2017 could be even worse.
In the past 12 months, an EU country voted to leave the post-war union for the first time, terrorists attacked major western cities, Russian President Vladimir Putin tested unity in the east and a refugee crisis put the entire 28-nation bloc in permanent emergency mode.
After a wave of populism toppled leaders from London to Rome, the one-day summit will contain more than a whiff of trepidation about what's to come as U.S. President-elect Donald Trump takes office next month.
"2016 has been a shock with Brexit, Trump, the Turkish coup and terrorist attacks," said Camino Mortera-Martinez, a Brussels-based research fellow of the Centre for European Reform. "But 2017 will be the year when we start seeing what these shocks mean for Europe and the world."

Looking east, governments are increasingly dissatisfied with EU policy, while further west euro-skeptic forces are gaining momentum. Brexit negotiations are set to begin in the spring, confounding establishment politicians preparing for elections next year in Germany, France and the Netherlands.
"The surge of populist protest parties across the western world poses particular risks for reform progress and the cohesion of Europe," Berenberg Bank Chief Economist Holger Schmieding said in a note published on Wednesday. "Populists can't deliver, but they can still do serious damage before they either get real or lose their appeal."
Trump Collision
Trump may not be the direct focus of discussions, yet the billionaire will cast a long shadow over the proceedings. His admiration of Russian President Vladimir Putin, praise for Brexit and tough talk on migration clashes with most of his cohorts in Europe. Tackling an assertive Russia, coping with an influx of refugees and separating from Britain are the main items in the bucket list of this end-of-year meeting and the many to follow.

German Chancellor Angela Merkel this week backed the extension of economic sanctions against Russia for an additional six months citing the armed conflict in eastern Ukraine and that stance is likely to be confirmed in the coming days, officials says. Trump however has said he'd consider recognizing Russia's annexation of Crimea and lifting the U.S. financial penalties tied to it. Also, his pick for secretary of state is a critic of sanctions.
Populist Scalps
A backlash against the political status quo claimed a few victims this year and their absence at the summit sums up the story of 2016. David Cameron stepped down as prime minister in June after failing to convince Britons to remain in the EU while Italy's Matteo Renzi resigned last week after losing a referendum on constitutional changes. French President Francois Hollande will be in Brussels, but has only a few more summits to look forward to. He decided not to run for re-election after admitting he was unlikely to win.
Italy was just the latest wake-up call. As he looked ahead to Europe in 2017, Slovak Prime Minister Robert Fico said that political developments in Europe's fourth-biggest economy were a "serious problem," and a cautionary tale.
"Parties that aren't leaning towards Europe have significant chances of winning the elections," Fico told lawmakers Wednesday in Bratislava.
Before it's here, it's on the Bloomberg Terminal.
LEARN MORE