Packer Reins In Casino Empire Plans After China Crackdown
by , , and
Crown Resorts to sell down stake in Melco Crown Entertainment

Gaming company to cut net debt, return money to shareholders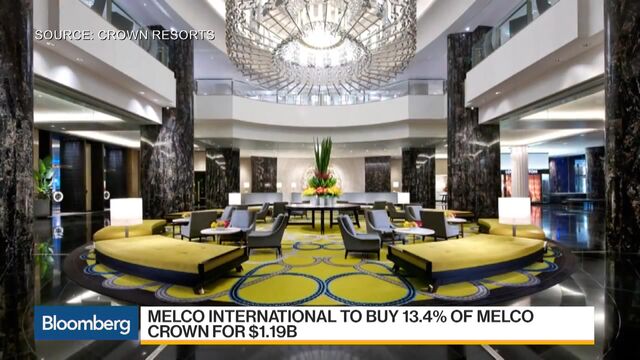 Casino billionaire James Packer scrapped plans for a gambling empire spanning the world's largest gaming markets after a clampdown by authorities in China and unpredictable returns in Macau.
Retreating to Australia, Packer's Crown Resorts Ltd. on Thursday abandoned a proposed spinoff of international assets and instead halved its stake in Macau casino operator Melco Crown Entertainment Ltd. Melbourne-based Crown is in talks with advisers about selling its remaining Melco Crown stake, worth about $1.2 billion at the current share price, through a so-called block trade, according to people with knowledge of the matter.
"This is all about risk management," said Theo Maas, who helps oversee about A$3 billion in assets including Crown shares at Sydney-based Arnhem Investment Management. "You're now looking at a much more predictable business with a much stronger balance sheet.''
Even so, the new focus on Australia is not without danger. More than a third of Crown's revenue at its Melbourne and Perth resorts comes from international visitors, predominantly mainland Chinese, and they will be the mainstay of the planned Sydney resort. The roundup of 18 Crown staff in China in October for alleged gambling crimes has raised questions about the company's ability to draw in Chinese high rollers.
VIP Returns
Amid the detentions in China, turnover from Crown's program for high-wagering, top-priority customers at its Australian resorts slumped 45 percent from a year earlier in the most recent 23-week period, Crown said Thursday. 
The clampdown, which captured Crown's head of international high-roller operations Jason O'Connor, sparked concern of a renewed crackdown in China on overseas casino operators trying to woo citizens overseas to gamble.
The overseas spinoff was designed to isolate Crown's Australian casino business from its Melco Crown investment, which was infected by a two-year gambling downturn in Macau. The merits of creating such a separate business were undermined by a nascent gaming recovery in Macau.
Crown will sell a 13.4 percent stake in the Macau casino operator to Melco International Development Ltd. to raise A$1.6 billion. It is also planning to offer as much as a 14 percent holding in Melco Crown to institutional investors as soon as Thursday through a block trade, the people with knowledge of the matter said, asking not to be identified as the details are private. 
The amount of shares to be sold will depend on demand, and there's no certainty Crown will proceed with the transaction, according to the people. Natasha Stipanov, a spokeswoman for Crown, didn't immediately respond to e-mailed questions.
Crown also said it's considering selling an undeveloped plot in Las Vegas and will now focus on its casinos in Australia, led by a proposed A$2 billion ($1.5 billion) high-stakes, luxury resort in Sydney.
Melco Crown Ambitions

Packer will step down as deputy chairman, giving full control of Melco Crown to Lawrence Ho, Melco International's chairman and chief executive officer.
The sales comes as Ho, the billionaire son of gaming tycoon Stanley Ho, has ambitious plans to enlarge the company's international footprint, with casinos and hotels in the Asia region and beyond. Melco International's stake in Melco Crown after the sale will rise to 51 percent from 38 percent, according to a company statement. The Macau casino operator will also cease to have the right to use "Crown" in the corporate name six months after the sale closes, it said.
The transaction is positive and shows "strong commitment" from Ho, wrote Vitaly Umansky, an analyst at Sanford C. Bernstein & Co., in a note Thursday. "The read through should not be that Crown is bailing on Macau," he wrote. "Instead, the sell-down is related to Crown's own internal restructuring and change in strategy."
About half the proceeds from the sale to Melco International will be used to reduce Crown's net debt, with the rest returned to shareholders, Crown said. The sale needs regulatory approval from Macau authorities and is expected to be completed in the first quarter of 2017. Earlier this year, Crown sold an $800 million stake to Melco Crown, reducing its holdings in the company to 27 percent.
Falling Shares
Melco Crown listed in 2006 in New York as a joint venture between Ho and Packer and raised more than originally planned at $19 per share. The stock price peaked in 2014, rising to $45.16 that March and has since tumbled to below its debut price. Melco Crown shares closed 0.1 percent lower in New York Wednesday to $17.31.
Crown shares were halted for Thursday's statement. The shares, which have fallen 9 percent this year, haven't posted a positive year since 2013. At the same time, shares in Sydney-based rival Star Entertainment Group Ltd. which runs the city's only licensed casino, are on course for a third straight year of gains.
Redeploy Capital
Cutting debt is "clearly positive for the group," said John Likos, Morningstar Inc.'s Sydney-based head of credit research for Australia.
Crown can now "redeploy capital to fund high-quality growth projects," Chairman Robert Rankin said in the statement. "Crown Resorts has a strong portfolio of future projects, anchored by Crown Sydney, and including our online and wagering platforms."
Crown continues to prepare for a proposed initial public offering of 49 percent of a property trust that would hold some of its Australian hotels.
The entity Crown planned to spin off was also set to house Crown's development site in Las Vegas, a 20 percent stake in Japanese restaurant Nobu and half of U.K. casino operator Aspers Group.
Before it's here, it's on the Bloomberg Terminal.
LEARN MORE