Christie Could Get Book Deal While in Office Under N.J. Measure
By
Bill would let governor get book published, give staff raises

Republican sponsor of measure calls it 'First Amendment right'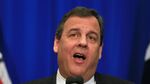 Governor Chris Christie would be able to earn money from a book deal during his last year in office under a bipartisan measure moving through the New Jersey Legislature.
The bill, introduced on Monday and scheduled for a Thursday Senate budget committee hearing, would change New Jersey law to allow sitting governors to write and have their books published. At the same time, it would provide raises for the governor's cabinet members, judges and lawmakers' staff. Democrats control both houses of the legislature.
Among the sponsors is Christie ally Senator Kevin O'Toole, a Republican from Cedar Grove, who said in a statement that the book portion of the bill "is simply a First Amendment right that has been denied in New Jersey." He cited more than a dozen elected officials who have published books while in office, including Democrats Barack Obama and Hillary Clinton.
Christie, a 54-year-old Republican, has record low approval from New Jersey voters after two former allies were convicted in the George Washington Bridge lane-closing scandal. He was replaced as chairman of President-elect Donald Trump's transition team and hasn't been given a job in his administration. Christie has pledged to serve out the rest of his second term, which ends in January 2018.
Brian Murray, a spokesman for Christie, didn't return an e-mail seeking comment on the bill.
Before it's here, it's on the Bloomberg Terminal.
LEARN MORE