Booming Iceland Needs to Sober Up, Governor Warns After Rate Cut
By
Gudmundsson sees risks of over-heating amid economic boom

Says end of capital controls to proceed speedily next year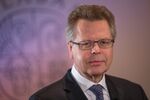 Iceland will need to pursue a more sober fiscal policy if it wants to avoid a hangover from its latest high-growth binge, according to the governor of the country's central bank.
"It's like when you're at a party and you need to slow it down a bit," Mar Gudmundsson said in an interview Wednesday after he cut rates for a second time in four months.
Easing monetary policy while advocating fiscal tightening sounds like a contradiction. Not so in Iceland, where a boom in foreign direct investment and surging tourist arrivals produced a record current account surplus in the third quarter. That's pushed up the value of the krona, jeopardizing Sedlabanki's inflation target.
"It's not that we are fueling this with lax monetary policy, quite the contrary, monetary policy is tight," Gudmundsson said. "We are more dealing with the consequences of huge improvements in the terms of trade and of a growth in tourism."
Overheating Risks
In other words, the country has fallen victim to its own success, with the economy operating at full capacity and growing at a stellar pace of almost 5 percent. The last time Iceland was doing so well, it crashed.

According to Gudmundsson, there are echoes of 2008, when the country's three largest banks collapsed under a mountain of debt, dragging the economy down with it.
"It is beginning to get to the level it was prior to the crisis," Gudmundsson said. "The risk of serious overheating is increasing."
Credibility is the name of the game for Iceland, which is only now finally lifting capital controls imposed in the wake of the 2008 crash.
Wednesday's interest rate decision reduced the country's benchmark seven-day term deposit rate by a quarter of a percent, to 5 percent.
But with the central bank struggling to lift inflation -- the rate of growth of consumer prices has been stuck below the target of around 2.5 percent for nearly three years now, coming in at 2.1 percent in November -- Gudmundsson says it is now up to the politicians to avoid a new crash landing.
Icelandic Austerity
His recipe involves tapering public spending, despite a handy budget surplus forecast for 2017, and keeping double-digit pay rises in check.
"We would prefer it if the surplus was somewhat higher, because we're at the peak of the boom and that's creating a lot of income for the government that might not be there when the cycle turns," he said. What's more, fiscal policy can have "a much faster effect" than monetary policy in preventing overheating.
Icelanders are not suddenly about to plunge into a period of austerity, however. "It's not anything like Greek-style or Irish-style," he said of his proposed solutions.
"The government has a lot of tools: it has taxes and its own expenditure," he said. "The more other policies do, the less monetary policy has to do, and that means interest rates will be lower and vice versa. That's just how it is."
Still, for his recommendations to be heard, Iceland first needs to get a new government. Repeated attempts at coalition-building since the Oct. 29 elections have failed, although there's an expectation that a new administration will be in place by the end of the year.
A new government is also needed if the country is to go ahead with its plans to completely lift capital controls. Despite the current political stalemate, Gudmundsson expects rapid progress on that front.
"At the beginning of next year we will look at how fast and when we can lift capital controls. But that needs legislation, so you'll need to have a government," he said. Still, "early next year we might go very fast in terms of lifting capital controls completely."
Before it's here, it's on the Bloomberg Terminal.
LEARN MORE