With Sky Deal, United Murdochs Take Care of Unfinished Business
By
Taking control of Sky in $14.1 billion deal would heal wounds

Father and sons said to work on transaction together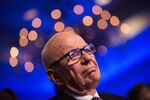 James and Lachlan Murdoch were kids when their father bought into a little British outfit called Satellite Television 33 years ago. Now they're helping Rupert Murdoch in his effort to take control of the company that grew into the European giant Sky Plc in a proposed $14.1 billion deal that would be the biggest in the media mogul's half-century career.
Murdoch's 21st Century Fox Inc., which owns 39 percent of Sky, reached a preliminary accord last week to acquire the rest of Europe's top pay-TV company. Should the deal work out as planned, the 85-year-old billionaire would wrap up a piece of unfinished business five years after his first bid was derailed by a newspaper spying scandal, while his sons would lay the groundwork for the next chapter. The three Murdochs worked out the details together, according to people familiar with the situation.
"This is Rupert's way of reclaiming part of his early TV glory," said David Folkenflik, author of "Murdoch's World" and a media correspondent with National Public Radio. "This is about pride and consolidation."
Rupert Murdoch, the controlling shareholder in both Fox and News Corp., owned newspapers in his native Australia, the U.K. and the U.S. when he set his sights on film and television. He made the Satellite Television buy in 1983, two years before acquiring 20th Century Fox, the studio behind "Star Wars." He kept adding TV and film assets, leading to the creation of the Fox broadcast network in America and a U.K. service.
The U.K. service and rival British Satellite Broadcasting spent millions competing for customers until Murdoch engineered a merger in 1990 to create the company that later became known as Sky. It then acquired rights to soccer's English Premier League, the country's most popular sports association. Much as Fox leveraged its National Football League contracts to become owner of one of the most-watched channels in the U.S., Sky used the Premier League to establish a dominant position in U.K. pay-TV. By 2000, Sky had signed up 4.5 million homes, or 80 percent of a market with lots of no-cost options.
After Sky went public in 1994, Murdoch continued to exercise considerable control, evidenced when he installed James as chief executive officer in 2003 over many shareholders' objections. Then, in 2007, James became executive chairman of news international, overseeing the company's U.K. newspapers, including the News of the World, as well as other holdings.
He remained in the job until shortly after the 2011 phone-hacking scandal that cost his father a cherished possession. News of the World closed within days after it came to light that the newspaper had spied on the voice mail of a 13-year-old murder victim. The mess sullied the Murdoch name, heightening regulatory scrutiny of his empire's operations and forcing the patriarch to end his bid to gain control of Sky.
The family was disjointed and relationships strained. Lachlan, 45, initially viewed as his father's presumptive successor, was off running an Australian TV business after resigning from his position as deputy chief operating officer at News Corp. in 2005. James spent the next few years in a lower-profile role in New York, then claimed the mantle of Fox CEO last July as Lachlan returned to be named co-chairman of Fox with his father.
James returned in April as Sky's chairman, a title he'd had to relinquish in 2012. Rebekah Brooks, who left the company altogether amid the hacking scandal, came back last year to lead News Corp.'s U.K. subsidiary.
When another scandal erupted earlier this year, involving then-Fox News CEO Roger Ailes and allegations of sexual harassment, the Murdochs showed they'd learned a lesson by moving swiftly to oust the longtime executive.
All the while, the three Murdochs have been laying the groundwork for a return to full ownership of Sky. They spun off their newspaper assets, obviating most concerns about their share of the media market. Fox also sold Sky Italia and Sky Deutschland to Sky in a move that consolidated the brand, boosted sales and made it a bigger player in Europe.
James Murdoch, who turns 44 on Tuesday, has said in interviews and public appearances that holding a minority stake in Sky was untenable. Either they would buy the whole enterprise, or sell. Now the question is whether regulators and shareholders will allow them to claim the prize.
Sky shares rose 1.8 percent to 989.50 pence at 2:22 p.m. in London Tuesday, an 8 percent discount to Fox's offer price of 1,075 pence. The gap is large enough to suggest some shareholders see a risk the deal won't go through.
Before it's here, it's on the Bloomberg Terminal.
LEARN MORE