business
Wells Fargo Faces Limits After Second Living Will Failure
By
Company kept from growing its non-bank activity, agencies say

Other banks that previously fell short have fixed deficiencies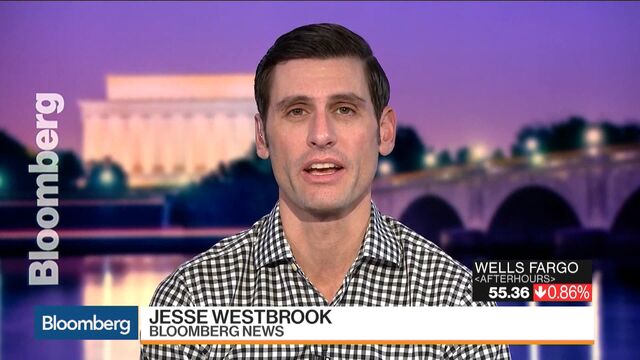 Wells Fargo & Co. failed for the second time this year to persuade U.S. regulators that it could unwind its business in the event of a failure without wreaking havoc on the broader financial system.
The rejection marks another setback for the lender still reeling from a scandal over phony customer accounts and means it's now banned from buying non-bank companies or setting up international units. While deeming Wells Fargo's so-called living will inadequate, the Federal Reserve and Federal Deposit Insurance Corp. also said Tuesday that JPMorgan Chase & Co., Bank of America Corp., Bank of New York Mellon Corp. and State Street Corp. had fixed deficiencies with their plans. The agencies had rejected all those banks' documents in April.
"This is further evidence that Wells Fargo is far from out of the regulatory penalty box," said Isaac Boltansky, an analyst at Compass Point Research & Trading. "When it rains, it pours."
Wells Fargo will get another shot at repairing its problems, the regulators said. But if it fails to do so by March 31, assets in its broker-dealer and non-bank units will be capped. Under the Dodd-Frank Act, the lender will have another two years to convince the government it's on the right track before the regulators can step in and force it to break off pieces of its business.
Satisfying Regulators
"We will continue to work closely with the agencies to better understand their concerns so that we can bring our resolution planning processes in line with their expectations," Wells Fargo said in a statement, adding that the company believes it can satisfy the concerns by the new March deadline.
The San Francisco-based lender becomes the first institution to trigger the opening part of one of the most potent powers regulators were granted in Dodd-Frank: authorities that could eventually force a bank to restructure. The rejection adds to a difficult year for an embattled Wells Fargo, still trying to remedy a scandal over its employees setting up as many as 2 million accounts without customers' approval. The bank already faced restrictions on acquisitions as part of that settlement with regulators.
Wells Fargo slid almost 1 percent to $55.35 in extended trading at 6:31 p.m. in New York. The shares had climbed 2.7 percent this year, the worst performance in the 24-company KBW Bank Index.
When its living will was first rejected earlier this year, Wells Fargo was hammered for "material errors." In a plan re-filed on Oct. 1, the bank detailed what it had done to fix its deficiencies. The publicly available section of the revised plan said it sold some non-core businesses to make the bank easier to handle in a failure. The lender also said it increased capital and liquid assets to be better able to absorb losses.
Chaotic Bankruptcies
In Tuesday's second failure, the bank didn't remedy problems with how it has organized its various "legal entities" and how it shares its services among units, according to the Fed and FDIC.
The living-wills exercise was a key element of Dodd-Frank, the regulatory overhaul prompted by the 2008 financial crisis. The collapse of Lehman Brothers Holdings Inc. that year showed what could happen when huge, complex financial firms go through a chaotic bankruptcy. The resolution plan process was meant to ensure big banks can be taken down quickly without threatening the economy. Large U.S. banks must persuade at least one of the banking authorities that their living wills are viable, and the industry has faced numerous setbacks in its submissions.
Still, banks are hopeful that they will face less aggressive scrutiny once Donald Trump becomes president. His advisers have pledged to rip up parts of Dodd-Frank that they believe have curtailed lending, and the Republican-controlled Congress is already working on strategies to dismantle the law. House Financial Services Committee Chairman Jeb Hensarling is among vocal critics who argue that Dodd-Frank hasn't fixed the problem that some banks remain too-big-to-fail.
The battle over living wills has long raged between regulators and the nation's biggest banks. It came to a head earlier this year, when the Fed and FDIC sent Wells Fargo, JPMorgan and other lenders back to the drawing board. Goldman Sachs Group Inc. and Morgan Stanley were both faulted by only one of the agencies in April, while Citigroup Inc. got through largely unscathed.
Fixing Deficiencies
As the other big banks prepare for their next living-will deadline on July 1, the four cleared Tuesday by regulators can breathe a sigh of relief that they "adequately remediated deficiencies."
In the three months since Wells Fargo's fake-accounts scandal erupted, the bank that counts Berkshire Hathaway Inc. as its largest shareholder has lost business and relinquished its title of world's most valuable bank to JPMorgan. John Stumpf, the chief executive officer who led Wells Fargo through the financial crisis, abruptly departed after twice being blasted by lawmakers at congressional hearings. Earlier this month, the bank's board split its chairman and chief executive officer posts.
— With assistance by Laura J Keller
(
Updates with analyst comment in third paragraph.
)
Before it's here, it's on the Bloomberg Terminal.
LEARN MORE