India's Inflation Eases More Than Expected as Cash Ban Bites
by and
Consumer prices rise 3.63% in Nov. compared with Oct.'s 4.2%

Vegetable prices contribute to fall in inflation rate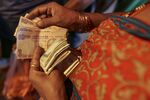 India's inflation grew at its slowest pace in two years as Prime Minister Narendra Modi's move to scrap high-value currency notes dented demand.
Key Points
Consumer prices rose 3.63 percent in November from a year earlier, the Statistics Ministry said in a statement in New Delhi on Tuesday
That compares with the 3.9 percent median estimate in a Bloomberg survey of 34 economists and October's 4.2 percent increase
The central bank is targeting 4 percent inflation through 2021, while allowing it to fluctuate in a 2 percent to 6 percent band
Big Picture
Signs of a prolonged slowdown in inflation, excluding food and fuel, could push the central bank to add to six benchmark rate reductions since the start of 2015. Governor Urjit Patel last week left the rate unchanged citing risks to the target while retaining an "accommodative" stance. Data points due in the coming weeks include the U.S. monetary policy review -- where the Federal Reserve is expected to raise rates -- and India's growth estimate for the year through March.
Economist Takeaway
"It is a positive surprise compared with consensus, but broadly in line with our forecasts of 3.6 percent," said Anjali Verma, chief economist at PhillipCapital. "We expect inflation to be muted, going forward, and should hover around the 4 percent mark. The impact of demonetization should keep inflation around that level, although there is a slight risk from rising oil prices. Overall, we expect the RBI to lower interest rates as the impact from demonetization will not be transient."
DETAILS
The consumer food price index gain slowed to 2.11 percent from a year earlier, compared with 3.32 percent the previous month
The fall was led by a drop in vegetable prices
Housing and education costs rose 5.15 percent; transport 3.77 percent; health 4.55 percent
Before it's here, it's on the Bloomberg Terminal.
LEARN MORE