Dollar Steadies After Skittish Session as FOMC Begins Meeting
By
Greenback pares loss with brief rise in 10-year Treasury yield

USD fortune may hinge on dovish or hawkish Fed hike: traders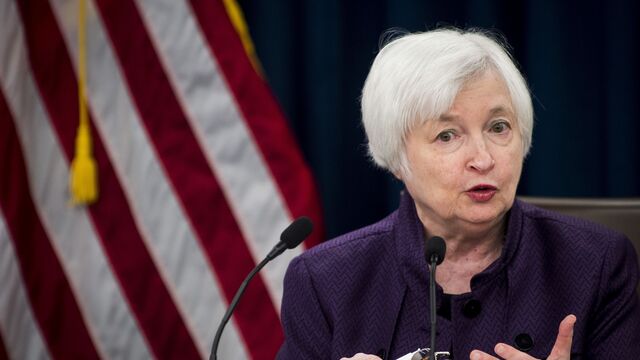 The dollar is trading little changed and narrowly mixed after a session of choppy flows and occasionally sharp price swings, as traders keep positions close to their chests with the two-day FOMC meeting underway.
Traders say the dollar should have a muted reaction to the Fed's expected 25 basis points rate hike, but may see more volatile price action in reaction to Chair Janet Yellen's subsequent press conference.
The dollar is trading near the middle of its range as measured by the Bloomberg dollar index after swinging between modest gains and losses. FX flows have been mostly muted, commensurate with sparse liquidity and low enthusiasm for risk, traders say.

The typical December drop in liquidity is exacerbated by the Fed meeting, as traders say they are less concerned over Wednesday's rate decision and more focused on the future course of monetary policy.
Traders and investors will parse Yellen's remarks to attempt to determine whether the rate hike is "dovish" or "hawkish" in terms of its future outlook. That perception is likely to determine the dollar's near-term direction before trading winds down ahead of year-end.
Despite acknowledging that Yellen has been cautious in her approach to monetary policy and willing to let the economy run a little "hot," expectations have built that the Fed may deliver a hawkish hike, which would potentially support the dollar after long positions have been trimmed in recent days, traders say.
That said, if the rate hike is perceived as dovish, and if the dot plot signals only 2 or fewer hikes in 2017, the dollar may relinquish some of its post-election gains as stale long positions are flushed out, traders say.
Bullish dollar bets were ranked the world's most crowded trade, according to 35% of respondents to a Bank of America global fund manager survey which polled 173 participants
EUR is trading little changed near 1.0620 after falling back from its fresh high at 1.0667; there was little news to justify the EUR push higher and sparse liquidity may have allowed light stop-loss buy orders to be tripped above the 1.0650 overnight high, where offers had been positioned; EUR retraced as the 10Y UST yield rose to its high for the day
EUR may have gained some lift earlier from EUR/GBP, which also rose to a fresh high around the same time
Further offers are in place above 1.0675 and extend to above 1.0700, traders say
While EUR may gain a lift on dollar weakness, traders continue to cite the 2017 political risks that face the single currency, expecting that fresh selling may eventually re-emerge
EUR will find bids in place at 1.0600 with further demand seen below 1.0580, traders said
EUR also has the potential to be influenced by large option expiries that mature over the course of the week in the 1.0500 to 1.0800 zone, the largest being a more than EU4b 1.0800 strike for Friday, with potential to cause some trading congestion as gamma traders adjust hedges
GBP/USD dropped to a fresh 1.2660 low mid-morning, quickly relinquishing all gains spurred by above-est. U.K. inflation data; GBP has been exceptionally volatile in recent weeks as traders try to balance shifting perceptions on the Brexit process with data that has shown some unexpected resilience in the economy
GBP continues to face resistance near its 100-DMA at 1.2769 with offers also in place at 1.2775
USD/JPY trading ~115.25 amid a rise in U.S. stocks and a small uptick in the UST 10Y yield; traded above 115.00 for most of the session, though amid very muted flows, according to a trader in London
Offers are in place above 115.50 and again at 116.00, traders said
— With assistance by Lananh Nguyen
Before it's here, it's on the Bloomberg Terminal.
LEARN MORE