Chinese Stocks Erase Decline as PetroChina Jumps on Oil Advance
By
Gauge of mainland energy shares climbs as OPEC mulls cut

Economic figures show economy remained stable in November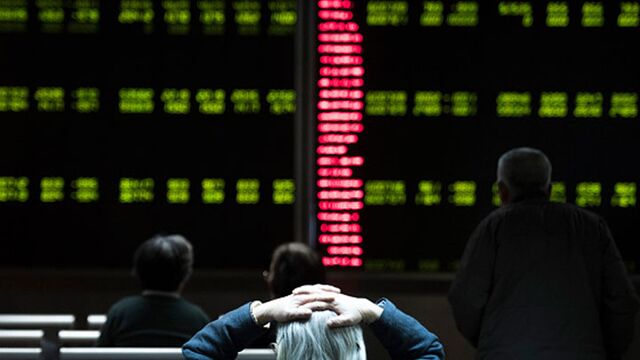 Chinese stocks erased declines in afternoon trading to scratch out a gain for the day, with PetroChina Co. leading the rebound as oil prices held near a 17-month high.
The Shanghai Composite Index rose 0.1 percent to close at 3,155.04, after sliding as much as 1.1 percent. PetroChina added 1.9 percent, while China Petroleum & Chemical Corp. climbed 0.9 percent. China's industrial output grew 6.2 percent in November from a year earlier, in line with analysts' expectations, while retail sales topped estimates. The Shenzhen Composite Index added 0.3 percent following Monday's 4.9 percent tumble.
Concern about higher money market rates, regulatory moves to curb leveraged equity purchases and U.S. President-elect Donald Trump's questioning of the One-China policy has dogged the nation's financial markets this week. Stocks, bonds and the currency have also come under pressure before this week's expected U.S. interest-rate hike.
"The figures are good but market sentiment remains cautious after a big drop yesterday," said Linus Yip, a Hong Kong-based strategist at First Shanghai Securities Ltd. "For the past two months people were quite excited that insurers' money was helping to push up the market but they did it too drastically."

Retail sales advanced 10.8 percent last month, while fixed-asset investment increased 8.3 percent in the first 11 months of the year. With the nation's expansion on pace to land in the middle of the government's 6.5-7 percent full-year objective, attention is shifting to curbing excess corporate borrowing and industrial capacity and reining in surging property prices.
Insurers should act as providers of long-term funds to boost the real economy instead of short-term speculators, China Insurance Regulatory Commission Chairman Xiang Junbo said at a meeting on Tuesday. Officials have moved to rein in financial risks associated with a surge in dealmaking by insurers, after the nation's top securities official likened leveraged stock buyers to "robbers."
Funding Costs
The Hang Seng China Enterprises Index added 0.2 percent while Hong Kong's benchmark Hang Seng Index rose 0.1 percent. The city's funding costs surged for an 11th day on Tuesday to a 2009 high, making it more expensive to borrow to buy stocks. With the squeeze starting to spill over into other markets, Australia & New Zealand Banking Group Ltd.'s Raymond Yeung says it's signaling concern about a cash exodus.
"Higher U.S. bond yields will cause outflows from emerging markets and Hong Kong," said Yeung, chief greater China economist at ANZ in Hong Kong. "The influx of investment flows from the mainland into Hong Kong motivated by currency hedging can offset some pressure. Yet, the interbank market has started to price in potential outflows."
The Hang Seng Properties Index dropped 0.6 percent, led by Link Real Estate Investment Trust and Sino Land Co.
The 10-year yield on Hong Kong government bonds jumped 17 basis points, the most in a month, to 1.74 percent. The one-month interbank rate rose 4 basis points to 0.62429 percent, the highest since 2008, according to a fixing from the Hong Kong Association of Banks.
China's home sales grew at the slowest pace this year. The value of new homes sold rose 16 percent to 910 billion yuan ($132 billion) last month from a year earlier, according to Bloomberg calculations based on data from the National Bureau of Statistics released Tuesday
A gauge of energy companies climbed 1.4%, the biggest advance on the CSI 300 Index. Oil futures gained 2.6% on Monday as Saudi Arabia signaled it's prepared to cut more than initially agreed and 10 other non-Organization of Petroleum Exporting Countries producers joined Russia in committing to a reduction.
Tibet Urban Development and Investment Co. tumbled 8.2%. The company resumed trading after saying it was seeking to place shares
Credit China FinTech Holdings Ltd. dropped 5.3% in Hong Kong before being suspended. Anonymous Analytics rated the company with strong sell
Before it's here, it's on the Bloomberg Terminal.
LEARN MORE