China Retail, Factory Pick Up Show Continued Momentum in Economy
Bloomberg News
Retail sales gain steam with 10.8% rise, most since December

Factory output beats estimates while investment meets forecast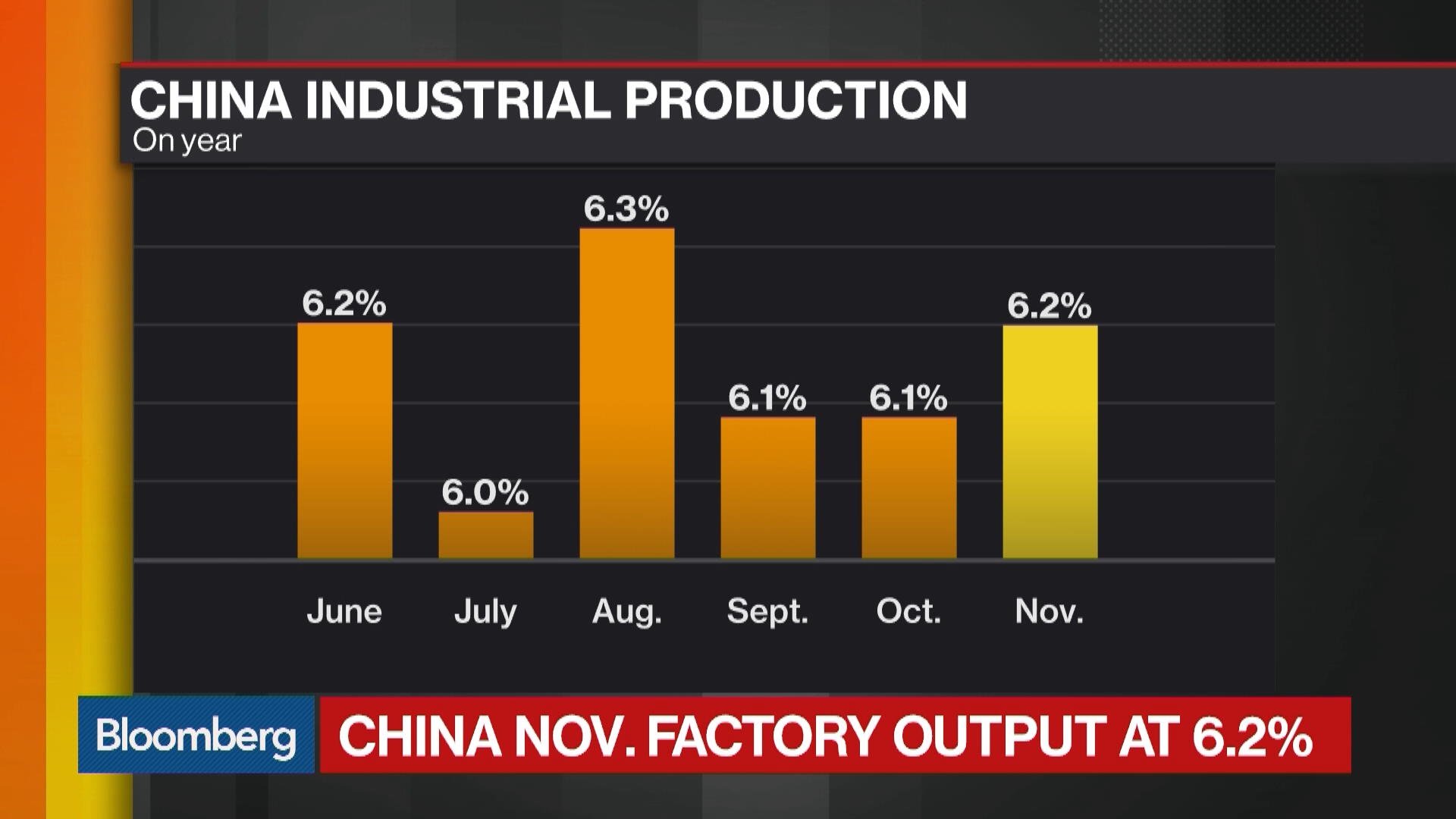 China's economic stabilization held in November, offering policy makers more room to switch focus away from stimulus and toward curbing financial risks.
Key Points
Industrial production climbed 6.2 percent from a year earlier in November, compared with median estimate of 6.1 percent in survey 
Retail sales rose 10.8 percent last month, biggest gain since December
Fixed-asset investment increased 8.3 percent in first 11 months of year
Bloomberg China monthly growth tracker picked up to 7.04 percent




Big Picture
The world's second-largest economy has remained resilient in the final quarter of the year as exports were cushioned by a weaker yuan and factory prices snapped out of their deflationary funk. With the expansion on pace to land smack in the middle of the government's 6.5-7 percent full-year objective, attention is shifting to curbing excess corporate borrowing and industrial capacity and reining in surging property prices.
Economist Takeaways
"The economic recovery gained momentum," Julia Wang, an economist at HSBC Holdings Plc in Hong Kong, wrote in a note to clients. "With the economy having just emerged out of deflation, and with the recovery still looking quite uneven, policy support should remain in place until the recovery becomes more broad-based."
"Strong growth in online sales as well as buoyant growth in home furnishings for newly completed homes have helped underpin Chinese retail sales in recent months," said Rajiv Biswas, Asia-Pacific chief economist at IHS Markit in Singapore. "Consumer spending remains resilient despite economic restructuring and capacity reductions in some sectors."
Facebook Live: What's next for China's economy?
"China's data dump points to a decent growth path of the economy, which will continue to support the reflation," said Zhou Hao, an economist at Commerzbank AG in Singapore. "This trend will persist into early next year, but we do see the risk of overall policy tightening, including property tightening and undergoing deleveraging in both stock and bond markets. "
"China's economy is ending the year with a steady wind in its sails," said Frederic Neumann, co-head of Asian economic research at HSBC Holdings Plc in Hong Kong. "The industrial sector is holding up well, and Chinese shoppers are still splurging, including on large-ticked items like cars."
The Details
Sales of household electronics, communication appliances and office supplies lead gains in November
Online retail sales quickened last month, boosted by China's annual online shopping bonanza Singles' Day on Nov. 11
Property sales by value rose 37.5 percent in year to date
Private fixed-asset investment picked up to 3.1 percent in the first 11 months
Crude processing rises 3.4 percent from a year earlier, power output rises 7 percent and coal output drops 5.1 percent, data show
November fiscal spending rose 12.2 percent from a year earlier, the Ministry of Finance said in a separate statement. Fiscal income climbed 3.1 percent
Runaway property prices in big cities have been contained thanks to tightening measures, National Bureau of Statistics spokesman said at briefing
— With assistance by Miao Han, Enda Curran, Molly Dai, Yinan Zhao, and Kevin Hamlin
Before it's here, it's on the Bloomberg Terminal.
LEARN MORE