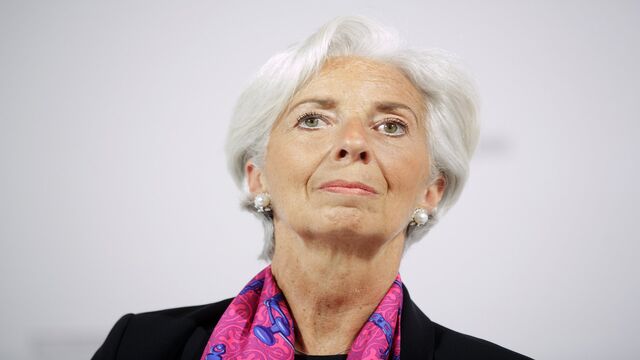 On Monday at 2 p.m., one of the world's most powerful women goes on trial. Christine Lagarde, managing director of the Washington-based International Monetary Fund, will face a special tribunal, the Cour de Justice, over her handling of a dispute dating from her time as France's finance minister. Though a prison sentence is theoretically possible if Lagarde is found guilty, the case isn't seen as something that will affect her day job. She denies the charges.
1. What's the case?
Lagarde is accused of failing to prevent a massive government payout to a corruption-tainted business tycoon, Bernard Tapie. He attacked Credit Lyonnais, then a state-owned bank, for mishandling the 1993 sale of sporting-goods company Adidas AG, which he owned, and pursued a claim against the bank's liquidator. That led to an arbitration procedure -- that Lagarde didn't try to block -- and an initial award of about 285 million euros ($300 million) for Tapie -- that Lagarde didn't try to overturn. Even though the payout was eventually cut to zero by an appeals court after doubts were cast on the impartiality of one of the three judges, Lagarde was charged by French investigating judges.
2. What's the charge?
Basically, that Lagarde didn't do enough to stop a payout to Tapie. She's accused of gross negligence in the use of public funds, a rarely used charge brought in cases where the evidence suggests the defendant didn't knowingly participate in activities to defraud the state. According to the indictment, Lagarde got at least two things wrong. First, she gave her go-ahead in October 2007 to the arbitration procedure even though the French investment agency, Agence des Participations de l'Etat, "repeatedly" advised her against it. She's also accused of waiving the right to appeal the arbitration decision even though she was told that a possible legal challenge was available.
3. What are the possible penalties?
Negligence in the use of public funds carries a maximum jail term of one year in prison and a fine of 15,000 euros. Most lawyers believe a prison sentence would be unlikely.
4. Could Lagarde appeal a conviction?
Yes, to France's top court, the Cour de Cassation.
5. Who will testify?


Lagarde is scheduled to be interrogated by judges on Tuesday. Orange SA Chief Executive Officer Stephane Richard, chief of staff at the French Finance Ministry during her tenure, will also be called to the stand. Other witnesses include Lagarde's predecessor at the helm of the finance ministry, Jean-Louis Borloo, and Claude Gueant, who was former French President Nicolas Sarkozy's chief of staff.
6. What is the Cour de Justice de la Republique?
The Cour de Justice was created in 1993 to deal with ministers accused of crimes related to their positions. It's made up of three professional judges, six members of Parliament and six senators. Six ministers have stood trial before the court, including current Environment and Energy Minister Segolene Royal in a defamation case and Laurent Fabius in relation to the distribution of contaminated blood when he was prime minister. Both were cleared. Edmond Herve, who was health minister, was convicted in the contaminated-blood case in 1999, though he was spared a prison term. French President Francois Hollande pledged to abolish the Cour de Justice when he was running for the office but never managed to do it.
7. Who are the judges?
Martine Ract Madoux will preside. The two other professional judges will be Gilles Straehli and Nicole Burkel. The six members of parliament will be: Marie-Francois Bechtel, Jean-Yves Caullet, Philippe Houillon, Nathalie Nieson, Dominique Raimbourg and Jean-Luc Warsmann. The six senators will be: Francois-Noel Buffet, Yves Detraigne, Josette Durrieu, Bariza Khiari, Francois Pillet and Bernard Saugey.
8. Who are the lawyers?
Patrick Maisonneuve will defend Lagarde in a forum he knows well after having been Herve's lawyer about a decade and a half ago. Maisonneuve has defended high-profile clients such as late Gabon president Omar Bongo, tennis player Rafael Nadal and the Church of Scientology. He's also represented a plaintiff in the scandal over Les Laboratoires Servier's Mediator diabetes drug. Lagarde's two other lawyers are Bernard Grelon and Gregoire Bertrou.
The Reference Shelf
Quotes from this Article
Before it's here, it's on the Bloomberg Terminal.
LEARN MORE