U.S. Equities Dip as Financial Stocks Decline, Phone Shares Gain
by
Phone companies, utilities rally with U.S. yields flat

Pfizer, Exxon help buoy the Dow Jones Industrial Average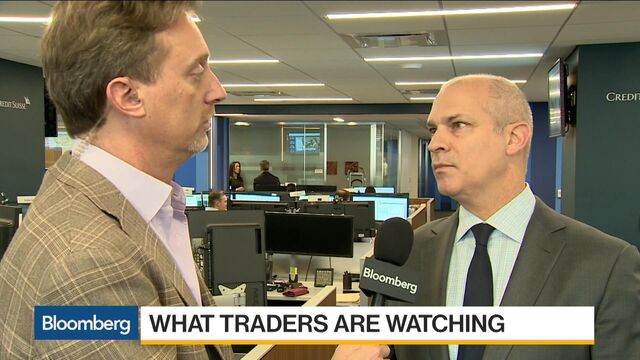 U.S. stocks fell as financial shares dropped and a rally in energy companies faded after crude oil pared some gains on expectations for a supply cut.
The S&P 500 Index slipped 0.1 percent to 2,259.96 at 4 pm. in New York, the first decline in seven sessions. The S&P 500 Index, Dow Jones Industrial Average and Russell 2000 Index all closed at records on Friday. The Dow Jones added 0.2 percent to 19,769.43 Monday.
Financial stocks down 0.9 percent, weighed by 3.5 percent drop in Navient (NAVI) and declines of at least 2.6 percent in Ameriprise Financial (AMP) and People's United Financial Inc. (PBCT)
Phone and utilities companies extend Friday's rally with 10-year Treasury little changed as bond proxy stocks including REITs rallied after gaining last week
Energy stocks up 1.4 percent after climbing as much as 2.5 percent, with all but 11 companies in 36-member index advancing
Dow lifted by gains of at least 2.2 percent in Pfizer (PFE), Johnson & Johnson (JNJ), Exxon (XOM)
Goldman Sachs basket of most-shorted companies lost 1.3 percent; up 15 percent since election

WTI futures up 2.6 percent after

Saudi Arabia

signaled it's ready to cut output more than earlier agreed and non-OPEC countries including Russia pledged to pump less next year

The U.S. is primed for a rate hike this week, with the Federal Reserve set to announce its decision on Wednesday

EARNINGS:

After market: VeriFone Systems Inc (PAY), Peregrine Pharmaceuticals Inc. (PPHM), Investors Real Estate Trust (IRET)
After market Tuesday: ABM Industries Inc. (ABM), HEICO Corp. (HEI), Nordson Corp. (NDSN)
For related equity market news:
Before it's here, it's on the Bloomberg Terminal.
LEARN MORE