Russia Offers Serbs Deeper Ties in Struggle for Balkan Influence
By
Lavrov visits Serbia after Montenegro's coup accusations

Serbia splits diplomacy goals between Russia, EU membership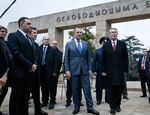 Russia offered to deepen economic ties and help boost the defense of Serbia, a Balkan linchpin in the struggle for influence over a region region split between a traditional Slavic ally on one side and the U.S. and European Union on the other.
Talks are underway for Serbia, a candidate for EU membership, to enjoy free trade with the Russian-led Eurasian Economic Union, Foreign Minister Sergei Lavrov said in Belgrade Monday. His visit follows rising accusations by neighboring Montenegro that Russia was behind an attempt to overthrow its government and assassinate former Prime Minister Milo Djukanovic during October general elections. With Russian-friendly political figures making gains across the former eastern bloc, Lavrov also met Serbian President Tomislav Nikolic, a staunch ally who is running for re-election in an April ballot.
"We are prepared to constructively consider any request formulated by our Serbian friends in order to ensure the defense capacity of their country, of course in the context of securing the balance of power in the region," Lavrov told journalists. "We have considered in detail the relations between our countries with NATO and the EU, and we are interested in restoring non-bloc thinking in Europe."
Concern is rising among NATO members that Russian President Vladimir Putin is trying to stoke instability in former communist eastern Europe and undermine the influence of the U.S. and the EU. Following his seizure of Crimea and support of a separatist war in Ukraine, the alliance has increased its presence in the Baltics to act as a deterrent from Moscow's increasingly expansionist stance.
Montenegro, a Balkan EU candidate that's slated to become a member of the North Atlantic Treaty Organization this year, arrested 20 people, mostly ethnic Serbs, during its October election. It said they were part of a Russian-organized coup to stop the country's western accession path. Russia "categorically" denied playing a role, and neither Lavrov nor Serbian officials discussed the accusations with the media during the Russian diplomat's visit.
Never NATO
Montenegro's Djukanovic warned last month that Serbia is "the key target in the region" for Russian efforts to stop the expansion of the EU and NATO. The Kremlin has "given the message that its strategic choice of the European Union is wrong," he said Nov. 10.
While Serbian Prime Minister Aleksandar Vucic is preparing his country to be ready for EU entry by 2020, he's vowed to maintain strong ties with Russia, which has backed the country of 7.2 million in its refusal to recognize the secession of Kosovo. Serbia, which Moscow also supported during the Kosovo war in 1999 before the province broke away and declared independence, has rejected taking part in U.S. and EU sanctions against Russia over Ukraine.
"Serbia will not be an anti-Russian state," Serbian Foreign Minister Ivica Dacic said at the news conference. "We will not join sanctions against Russia and also, and we have no intention of joining NATO."
Dacic said Vucic will visit Moscow on Dec. 21, while Lavrov said Russian Premier Dmitry Medvedev will come to Serbia "when most needed to promote our ties."
The yield on Serbia's 2021 dollar bonds rose 3 basis points to 4.618 percent by 10:20 a.m. in Belgrade, according to data compiled by Bloomberg.
Diverging Goals
Serbia is negotiating EU entry as the bloc faces its own uncertainties following Brexit and the rise of European populists who oppose further enlargement. It has also encountered some opposition from its neighbor Croatia, an EU member that blocked the opening of one negotiating area, known as a chapter, that Vucic had hoped to secure during a trip to Brussels Monday. The prime minister cut short the visit, pointing to Croatia's obstruction on Tuesday and saying he won't let "anyone humiliate Serbia."
"We will continue to cooperate with the EU," he told reporters in Belgrade. "And we won't hide that we will be improving cooperation with China and with Russia."
Before it's here, it's on the Bloomberg Terminal.
LEARN MORE