Obama Administration Deals Another Blow to Student Loan Giant Navient
The feds just crushed investors' hopes that the company would win additional government contracts.
By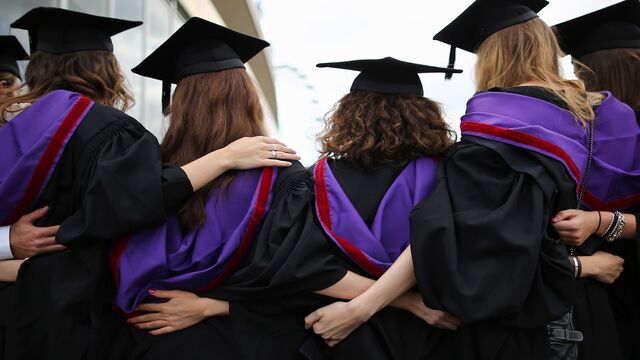 Navient Corp. lost out on a lucrative government contract to collect on defaulted federal student loans late last week, disappointing previously optimistic investors. The company has collected on such debt for nearly two decades, raking in tens of millions of dollars in annual revenue. 
Wall Street had hoped that Navient would flourish under the incoming Trump administration, thanks to new federal contracts and the possibility that the government would retrench from the student loan business in favor of private lenders. Company shares advanced nearly 30 percent from Nov. 8 through Friday, ranking it among the 20 biggest gainers in the Standard & Poor's 500. However, shares were down more than 2 percent in early Monday trading in New York.
"Navient's business model is not dependent on any one contract, and we regularly compete for and win a variety of business and government contracts," Patricia Christel, a Navient spokeswoman, said in a statement.
The company had been betting on winning the contract, which could last as long as 10 years and earn awardees as much as $417.1 million in revenue, according to an estimate by the U.S. Department of Education. Seven debt collectors won the contract out of 48 bidders. Navient received $127 million in combined revenue during the final two full years under the previous debt collection contract, its securities filings show.
Formerly known as Sallie Mae, Navient has collected on defaulted student debt for the Education Department since 1997, according to the company's most recent annual report. But its activities have been dogged by controversy over the past few years as regulators probed whether its main debt collection subsidiary, Pioneer Credit Recovery, mistreated distressed borrowers.
The Consumer Financial Protection Bureau has been investigating the company for about two years, and the Education Department last year declined to extend Pioneer's expiring debt collection contract after determining that the company's employees had misled borrowers at "unacceptably high rates." Navient sued the Education Department in federal court to overturn its decision. The case is still pending, and the company has denied any wrongdoing.
Friday's announcement increases the possibility that Navient could be frozen out of the federal student loan system, a once-unlikely situation considering that the company makes its money off government-backed student debt. The Education Department is looking to revamp the way it collects on federal student debt not yet in default (Navient is among the current contractors), and it hopes to award a new contract by February. Analysts at Washington-based Compass Point Research & Trading have told investors the company is unlikely to win that contract.
Before it's here, it's on the Bloomberg Terminal.
LEARN MORE