Maropost Takes on Salesforce, Oracle for Online Marketing Deals
By
Canadian firm said to be valued at $150 million with backing

Company expects to hit C$100 million in revenue in 2018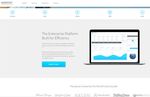 Maropost Inc., a Canadian marketing technology startup, is nipping at the heels of Salesforce.com Inc. and Oracle Corp., going from zero to C$30 million ($23 million) in revenue in just three years.
The Toronto-based firm sells software that makes it easier for companies to set up and run online marketing campaigns, competing directly with some of the products built by Salesforce, Oracle, International Business Machines Corp. and Adobe Systems Inc. Maropost has more than 300 customers and expects to be doing C$100 million in annual revenue by the end of 2018, Chief Executive Officer Ross Andrew Paquette said in an interview.
The company is profitable and hadn't taken on outside money until this summer, when venture capital firms Highland Europe and Elephant Partners invested, Paquette said. He declined to give the terms of the deal. Maropost raised $37 million at a valuation of about $150 million, a person familiar with the process said.
"I don't think it's that frequent that you see new entrants of this scale in the space," said Noah Elkin, an analyst at Stamford, Connecticut-based research firm Gartner Inc. "That's a pretty steep growth curve in a short period of time."
The world of marketing software, which encompasses tools to set up e-mail campaigns, keep track of consumer sentiment and maintain relationships with customers, is dominated by the big enterprise software companies, which have spent billions on acquisitions to expand.
'Fertile Ground'
Canada has proven a fertile landscape for startups in the sector. Oracle bought Eloqua, which was founded in Toronto, in 2012 for about $871 million and Salesforce acquired Fredericton, New Brunswick-based Radian6 in 2011 for $340 million. Hootsuite, one of Canada's few startups worth more than $1 billion, builds tools for businesses to engage with customers on social media.
Maropost's customers include News Corp., Rolling Stone Magazine, Mercedes-Benz and American Express Co., Paquette said. Its advantage lies in being a new product, built from scratch on the latest programming languages rather than being cobbled together from various acquisitions like its bigger competitors, Paquette said. He also points to Maropost's high levels of customer service, something that's easier to offer with fewer customers.
It's a tough market to crack, despite Maropost's early success, Elkin said.
"Those numbers pale in comparison to the big players in the space," he said. "The big challenge in terms of breaking in is less in terms of the functionality that you offer than how do you compete in terms of getting your name out there."
Maropost is slowly carving out its name in the industry, Paquette said.
For now, Maropost will keep building new products and tools into its software and work to add customers. An initial public offering could happen in the future, or it may follow in the footsteps of Eloqua and Radian6, Paquette said.
"We could potentially sell to a strategic," he said. "If I could find somebody who would just leave us alone and not screw up all the work we've done."
— With assistance by Scott Deveau
Before it's here, it's on the Bloomberg Terminal.
LEARN MORE