business
Lagarde Says She's Shocked by 'Imaginary Plot' That Led to Trial
By
Trial looks into her handling of a dispute as finance minister

Lawyer wants judges to first decide whether state was cheated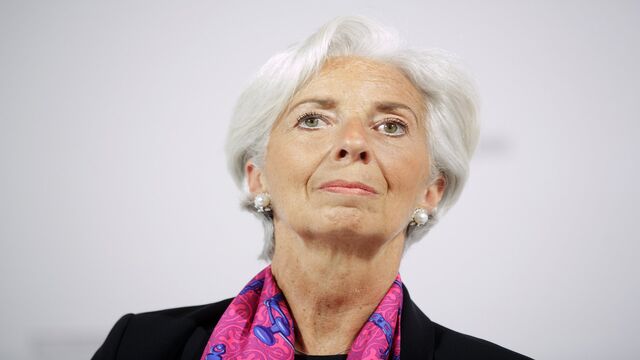 On the first day of her trial on decade-old negligence charges, International Monetary Fund Managing Director Christine Lagarde told a Paris court Monday that the claims are nothing more than "an imaginary plot."
Lagarde told the Cour de Justice de la Republique that she was "profoundly shocked: shocked by the shortcuts, the approximations" in the 2015 indictment, which is "an imaginary plot" written by someone who never met her. Lagarde, the former French finance minister, said none of her former colleagues "could recognize me when reading the indictment."
"I want at long last to prove that I'm in no way guilty of any negligence," Lagarde said as she took the stand to answer the court's questions. The IMF chief, who is accused of not doing enough to prevent a massive government payout to Bernard Tapie eight years ago, rejected the charge and said she acted in the general interest.
The Lagarde trial stems from former state-owned bank Credit Lyonnais's disagreement with Tapie over the 1993 sale of his Adidas AG. The dispute led to arbitration -- that Lagarde didn't try to block -- and an initial award of about 285 million euros ($302 million) for Tapie -- that Lagarde didn't try to overturn. For those two reasons, the IMF chief was formally accused of negligence, a charge that carries a maximum penalty of one year in prison and a fine of 15,000 euros.
Monday's hearing ended about 6 p.m. Monday and is scheduled to resume Tuesday at 9 a.m.
'Something New'
Lagarde told the court, which specializes in ministerial misconduct, that her decision to allow the arbitration procedure in 2007 came on the back of years of costly and inconclusive court proceedings, with 32 million euros in legal fees for that year alone.
"It was worth trying something new," she said.
Earlier, her lawyer, Patrick Maisonneuve, requested a delay in the trial, telling judges as the trial opened that it doesn't make sense to rule on the negligence charge before establishing whether the French state was actually cheated. The court "can't decide in only a few days whether state funds were misappropriated when Paris investigative judges have been examining this issue for years and still haven't come to a conclusion."
After a temporary suspension, court President Martine Ract-Madoux said the case should be heard and the judges will rule on a delay at the end of the trial. Hearings are scheduled for all this week and could continue until Dec. 20.
Cut to Zero
The Tapie payout was cut to zero by an appeals court last year after doubts were cast on the impartiality of one of the three arbitrators, Pierre Estoup. In addition, the parallel criminal probe is focusing on links between Tapie's lawyer, Maurice Lantourne, and Estoup. Orange SA Chief Executive Officer Stephane Richard, who was chief of staff at the French Finance Ministry during Lagarde's tenure, is also under investigation. He is scheduled to appear at the Paris court Wednesday at 10:30 a.m.
"The negligence must come on the back of a misappropriation of state funds," which hasn't yet been proven in the parallel probe and which is contested by all those under investigation in that case, Maisonneuve said. Judges should wait for the outcome of the second case.
The investigative part of the second probe ended in June and the judges overseeing that process are now poised to decide whether the criminal case should go to trial or be dismissed.
"Was I, were many people, taken advantage of and if so by whom?" Lagarde said. "We may find out later on."
(
Adds Lagarde comments starting in first paragraph.
)
Before it's here, it's on the Bloomberg Terminal.
LEARN MORE