For Stocks, Hard Part of This Tightening Cycle Comes Next Year
By
Things look better from a year ago, when Fed began tightening

Yet this stage of rate cycle hasn't been kind to S&P 500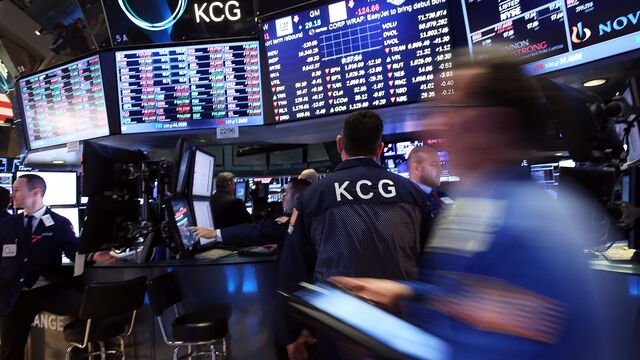 Maybe it's tempting to construe the S&P 500 Index's sudden immunity to the threat of higher interest rates as the start of something big. History suggests that's a mistake.
Yes, things look much better than when the Federal Reserve tightened in December 2015. Economic data is beating estimates at the fastest rate in two years, oil prices have almost doubled and stocks shrugged off Brexit and rallied since Donald Trump's election. The S&P 500 is up about 5 percent in a month, the biggest gain to greet a new president since Ronald Reagan, while the Dow Jones Industrial Average is nearing 20,000.

But all the optimism is running up against historical facts that should give pause to December's bulls: the second year of gradual Fed tightening cycles is often one of the worst for stock prices. According to data compiled by Ned Davis Research and Bloomberg, the S&P 500 has lost an average 1.8 percent in similar stretches since World War II, almost 9 percentage points worse than the historical return over all 12-month periods.
"Even slow cycles eventually bite," said Ed Clissold, chief U.S. strategist at Venice, Florida-based Ned Davis. "Our expectation is interest rates remain relatively low in 2017, but they are a bigger risk than they have been in years."
Members of the Federal Open Market Committee are expected to raise their overnight bank lending rate by 25 basis points at the conclusion of a two-day meeting on Dec. 14. They expect to lift rates twice in 2017 and three times in 2018, according to the median estimate of their quarterly projections in September.
Ned Davis divided post-war Fed tightening cycles into three categories and found that while slowing down the pace of rate increases does slow down the market reaction, the reaction still comes. The current pace of Fed hikes is even more gradual than the average slow cycle, according to Clissold.

While optimism over Trump's plans to boost fiscal spending and cut taxes have fueled the stock rally, one potential danger is a pickup in inflation would force the Fed to accelerate.
"If the Fed is forced to raise rates more than the two times, then the typical year-two headwind could come to the forefront," Clissold said.
Before it's here, it's on the Bloomberg Terminal.
LEARN MORE