Fitch Chides Bond Buyers Over Mozambique's Tuna-Fishing Debt
by
Investors didn't exercise due diligence, rating company says

Mozambique can't repay some debt, has asked for creditor talks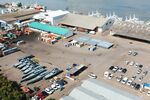 Investors should have known better, says Fitch Ratings.
Lenders failed to appreciate the risks of lending to Mozambique's state-owned fishing company and bear part of the blame for the country's inability to repay the debt, said Federico Barriga Salazar, a director at Fitch. The rating company last month moved the nation's credit assessment to RD, or restricted default -- just one step from rock bottom.
In the case of the Ematum tuna fisher, a two-page prospectus and a government guarantee of dubious legal force from one of the poorest countries in the world was enough to convince investors to advance about $750 million to a company with no track record, Salazar said. That loan had to be refinanced earlier this year via a Eurobond sale, which itself is now subject to restructuring talks after Mozambique said it can't service its debt.
"There was investor exuberance in the market about Africa as the next frontier three years ago," Salazar said in an interview in London on Dec. 9. "Especially given the favorable debt positions of many of these countries."
Hidden Debt
Mozambique is involved in a standoff with bondholders after it said in October it wants to restructure $1.73 billion in commercial loans. The International Monetary Fund suspended aid to Mozambique in April after uncovering $1.4 billion of hidden government debt, worsening the nation's plight.
The government wants to reach a deal with investors to pave the way for a new aid package with the IMF, while a group representing most of the bondholders said it won't start talks until it sees a deal with the Washington-based lender is near and an audit into the loans is published. Mozambique doesn't have the money to repay loans arranged by Credit Suisse AG and Russia's VTB Capital Plc even if it can honor a $60 million coupon payment in January on $727 million of bonds, Salazar said.
"The lack of transparency from the government in disclosing the loans highlights weaknesses in both governance standards and the policy framework," Salazar said.

A group of emerging-market investors including Franklin Templeton Investment Management Limited (UK) and New York-based hedge fund Greylock Capital Management LLC were among buyers of Mozambique's January 2023 Eurobond that was sold to refinance the Ematum notes. Yields on the January 2023 bonds soared by more than 900 basis points to exceed 25 percent in November. The notes yielded 22.13 percent on Monday.
Investors in Mozambique's bonds were reassured by the government's confidence that revenue from offshore gas fields discovered at the start of the decade would enable it to repay the debt. Those proceeds won't arrive in time, a fact overlooked by lenders, Salazar said. Mozambique said last month money from the gas fields will start to flow in from "the early 2020s."
"Many were saying Mozambique will eventually have an oil and gas windfall," Salazar said. "Even in the most optimistic scenarios, you would never have had those fiscal windfalls from liquefied natural gas projects by now."
Before it's here, it's on the Bloomberg Terminal.
LEARN MORE