Real Estate Firms Drag Europe Stocks Down While Oil Shares Rise
By and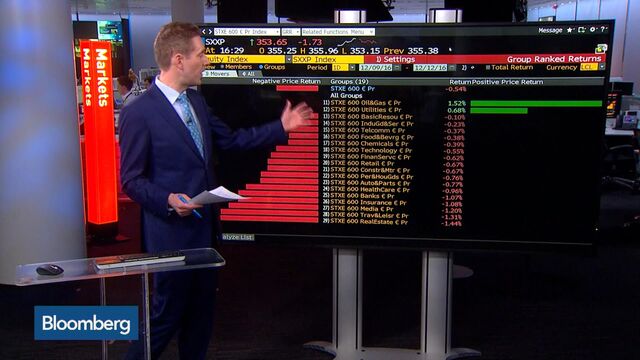 An advance in energy producers wasn't enough to lift Europe's stock market, with real estate companies leading declines amid a bond selloff and the biggest slump in Chinese equities in six months.
The Stoxx Europe 600 Index fell 0.5 percent, following the biggest weekly rally in almost two years. Oil and gas companies surged to their highest prices since July 2015 after Saudi Arabia signaled it's ready to cut production more than earlier agreed, sending crude prices soaring. Last week's jump in equities helped push more prices into a technical level that analysts consider overbought, a pullback from which could trigger declines.
"Weakness out of China and Hong Kong has somewhat dampened the prevailing bullish sentiment," Markus Huber, a trader at City of London Markets, wrote in an e-mail. "Furthermore, with share prices having risen substantially over the past weeks, for many the temptation is proving too great not to take some money off the table ahead" of the Federal Reserve meeting this week.

Property companies, known for being bond proxies, led declines in the Stoxx 600 as government debt from France to Germany and the U.K. declined.
The increase in oil prices sent airlines EasyJet Plc, Deutsche Lufthansa AG and IAG SA down at least 1.8 percent.
All but three industry groups in the Stoxx 600 declined.
A selloff in China dragged the Shanghai Composite Index down 2.5 percent at the close, with government bonds sliding and the yuan weakening toward an eight-year low. U.S. President-elect Donald Trump's questioning of the decades-old One-China policy, higher money market rates and concern that property prices are poised to drop were all cited as catalysts.
The Fed is set to announce a decision on interest rates on Dec. 14. Futures traders are pricing in a 100 percent chance officials will raise borrowing costs, compared with 68 percent odds at the start of November.
"Overall sentiment remains positive, with any selloffs considered as welcome buying opportunities," Huber said.
"Equities should be owned, and new positions should be bought on 2-3% market pullbacks," Oppenheimer technical analyst Ari Wald wrote in a note dated Dec. 10.
— With assistance by Elena Popina
Before it's here, it's on the Bloomberg Terminal.
LEARN MORE