EU Takes on Trump in Final Push for Free-Trade Pact With Japan
By
Brussels sends envoy to Tokyo in bid for a year-end agreement

Europe must withstand 'protectionist alarm bells': Malmstrom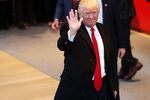 Europe is poised to test its soft power in an increasingly hard-power world.
The European Union will sound out Japan this week about the prospect of a breakthrough in their free-trade talks, seeking to counter U.S. President-elect Donald Trump's protectionist tilt and show that the bloc's market-opening clout is alive and well.
Mauro Petriccione, the EU's chief negotiator who recently salvaged a Canadian deal that was nearly derailed by a small Belgian region, will travel to Tokyo on Monday to gauge whether both sides can wrap up almost four years of trade negotiations as soon as this month.
"This is a way for both of us to show that open markets with good trade agreements are still something worth doing," European Trade Commissioner Cecilia Malmstrom said while sitting in her Christmas-decorated office in Brussels last week. "We should not give in to protectionist alarm bells that are ringing in some countries."
Europe and Japan aim for an accord to expand their more than 100 billion euros ($105 billion) in annual goods trade and 40 billion euros in services transactions. Japan is the EU's No. 2 trade partner in Asia, after China. A commercial deal between Brussels and Tokyo would follow European agreements with South Korea, Singapore, Vietnam and Canada.

Long carried out in the shadow of EU trade talks with the U.S, the bloc's negotiations with Japan are a prime opportunity for Europe to keep flexing its commercial heft in the wake of Trump's Nov. 8 election victory.
Malmstrom says campaign-trail criticism by Trump of free-trade deals signals the planned EU-U.S. Trans-Atlantic Trade and Investment Partnership will be put "in the freezer" once he takes office in January.
She also says that, because the Trans-Pacific Partnership -- or TPP -- among nations including the U.S. and Japan faces the same fate, the Japanese government of Prime Minister Shinzo Abe is showing more political will to strike an agreement with Europe.
"The disappointment that many countries have felt that TPP is not going to happen, at least not soon, has of course made many of them rethink a little bit about their trade strategies," Malmstrom said. "It has resulted in even closer contact, and more frequent, between us and the Japanese."
Abe said on Dec. 9 that he was "pursuing the best result in light of national interest" and held open the possibility of progress with the EU this month. "The government will do its utmost to reach an agreement on a broad framework for these talks by the end of the year," Abe told the Japanese parliament.
After the U.K.'s decision in a June referendum to quit the 28-nation EU, the bloc is also grappling with domestic political threats to its market-opening mandate. It dodged a bullet in mid-October when the Belgian region of Wallonia, taking advantage of its leverage over Belgium's federal government in commercial matters, toyed with torpedoing the EU-Canada accord.
As it happens, at the center of a flurry of diplomacy to win over Wallonia at the time was Petriccione. The Italian national is among the most senior and experienced trade officials in the European Commission, the EU's executive arm in Brussels.
Petriccione decamped to the Walloon capital Namur to craft compromises that also involved consultations with the Canadian government and that ultimately were accepted by Wallonia's Socialist leader, Paul Magnette. The diplomatic success led to sighs of relief in EU hallways and allowed Canadian Prime Minister Justin Trudeau to visit Brussels on Oct. 30 for an EU-Canada summit at which the trade deal was signed.
The challenge that Petriccione faces this week in Tokyo is different. The EU has long argued that a free-trade accord with Japan requires Abe's government to give more political priority to the initiative.
Japan, the world's No. 3 national economy, enjoys a trade surplus with the EU, which has a more offensive negotiating strategy aimed at gaining access to traditionally protected Japanese markets such as agriculture. That has left European leaders coaxing their Japanese counterparts to focus on settling a handful of remaining differences.
The EU has insisted that Japan remove tariffs on European foods such as chocolate, pasta, tomato paste and cheese, scale back non-tariff barriers for cars and open up public procurement in the rail industry.
In exchange, the EU has been prepared to phase out its 10 percent tariff on autos from Japan and ease access to Europe for Japanese executives. The bloc has also said it would refrain from demanding duty-free access to the Japanese market for "sensitive" farm goods such as rice, beef and pork.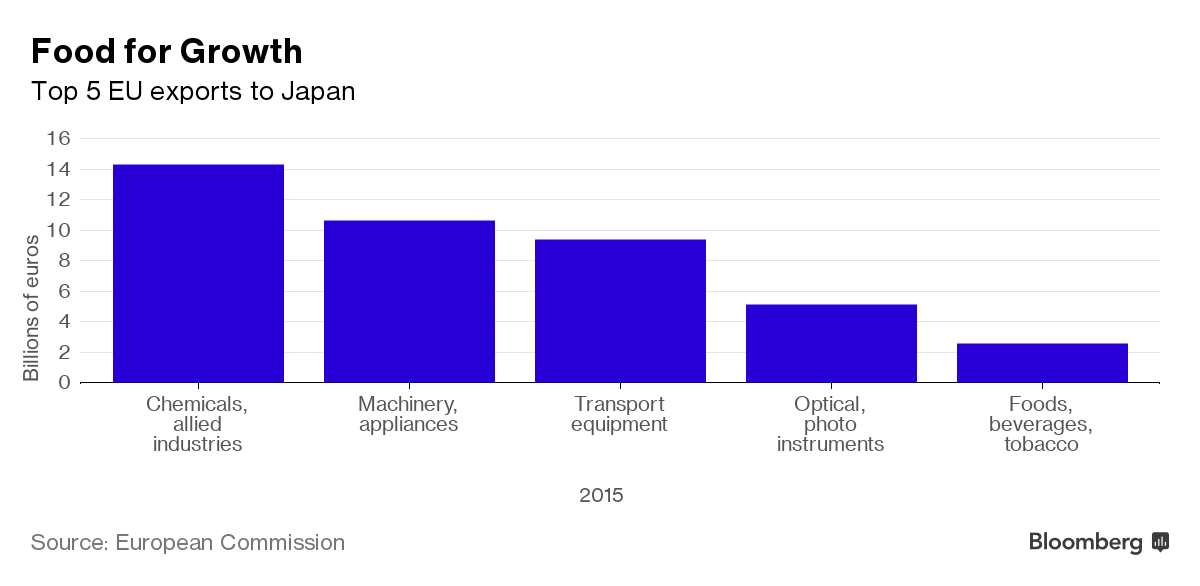 The two sides held a 17th round of talks in September. Malmstrom said she'll have a clearer idea of the timing of a possible breakthrough after Petriccione's visit to Tokyo.
"We are very close," she said. "There are some very sensitive areas in Japan which, of course, we will have to take into consideration when we finalize this. Agriculture is not done yet. It's one of the trickiest things to solve."
— With assistance by Chikako Mogi, and Takashi Hirokawa
Before it's here, it's on the Bloomberg Terminal.
LEARN MORE