China Files WTO Complaint Against EU, U.S. Tariff Methods
Bloomberg News
Move highlights determination to win full rights under WTO

Move comes one day after 15th anniversary of China joining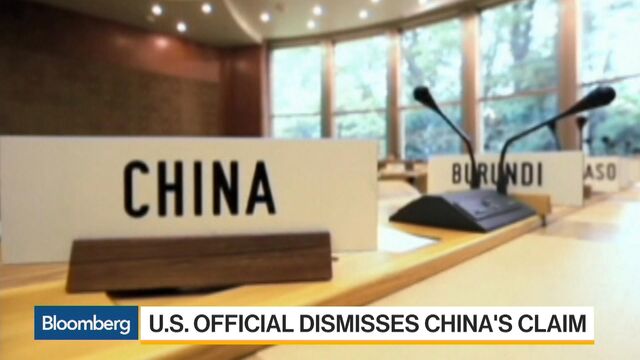 China complained to the World Trade Organization to force the U.S. and European Union to stop using example prices from other nations in anti-dumping probes on its goods.
China began dispute settlement procedures with the WTO to drop the so-called analogue-country model that its two biggest trading partners have used in past disputes, the Ministry of Commerce said in a statement on its website Monday.
The move highlights China's determination to win full WTO rights 15 years after joining the global trade arbiter. Beijing is trying to keep export markets for goods ranging from steel to solar panels accessible in the face of growing European and U.S. political concerns about the threat to their manufacturers posed by Chinese competitors.
The complaint came a day after the 15th anniversary of China's joining the WTO and followed the country's assertion last week domestic prices should be used in anti-dumping disputes. All WTO members should stop using third-country examples in probes after Dec. 11 or China will use WTO rules to protect its rights, ministry spokesman Shen Danyang said Friday.
The U.S. and EU have initiated the most anti-dumping investigations against China, and using third-country models has artificially raised duties on Chinese exports, hurting businesses and employment, the ministry said Monday. China has the right under WTO rules to defend its legal rights, the ministry said.
Draft Legislation
The European Commission proposed last month to recognize China as a market economy in trade cases while seeking new investigative tools to help keep tariffs on Chinese goods relatively high. The commission, the EU's executive arm, drafted legislation to abolish the non-market-economy label the EU assigns to China when probing alleged below-cost -- or "dumped" -- imports.
China also said Monday that the U.S. abused trade rules in a plywood dumping probe. American investigators didn't give it the opportunity for reasonable consultation before filing the case, commerce ministry official Wang Hejun said in a statement.
Imports of hardwood plywood products from China will be investigated for U.S. sales at less than fair value and unfair government subsidies, the U.S. Commerce Department announced Dec. 9. The investigation could force importers to pay duties of 114 percent the value of the imports, or even higher, according to a Bloomberg BNA report.
— With assistance by Jonathan Stearns, Miao Han, Qi Ding, and Albertina Torsoli
Before it's here, it's on the Bloomberg Terminal.
LEARN MORE