These Foreign Funds Stand by South Korea Amid Political Turmoil
by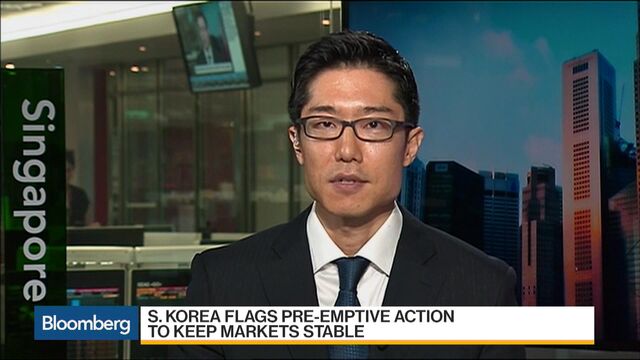 Here are at least three overseas investors who remain bullish on South Korean stocks and are sticking to their investment strategy in the wake of the presidential impeachment vote.
Background on South Korean president's impeachment
Gary Greenberg, whose Hermes Global Emerging Markets Fund is beating 96 percent of peers with a one-year return of 31 percent, said there's "no change" to his Korea stock strategy. He expects a limited reaction from Korean markets on Monday even after lawmakers passed a motion Friday to impeach President Park Geun-hye over influence-peddling allegations.
"From an investor point of view, Korea is a pretty stable economy"
"Reform of chaebols is pretty good, and if this resulted in better governance, that would be good for Korea"
He says he holds KB Financial Group Inc., Samsung Fire & Marine Insurance Co., and Samsung Electronics Co.

Ben Surtees, a fund manager whose Jupiter Far Eastern Fund has posted a 21 percent return year-to-date, expects a new government led by the opposition party to target improvements in chaebols, or family-owned conglomerates in Korea.
"If the opposition party takes office, it will push chaebols for better management policy and more friendly policy for minority shareholders" 
"It was less of a surprise for investors who watched Korea over many periods"
Surtees says he holds Samsung Electronics, SK Hynix Inc., Coway and NCSoft Corp.
Ewan Markson-Brown, an Edinburgh-based fund manager at at Baillie Gifford, who also didn't shift his view on Korean stocks, said the scandal is now in the past. He holds CJ E&M, on Kosdaq index, and plans to revisit the small-cap index that has plunged since October.
"The market has been weak due to uncertainty, and I think this vote starts to provide greater confidence that the political scandals are behind us" 
"I imagine it has to be taken positively. I may buy some Kosdaq names given extreme weakness we have seen."
Before it's here, it's on the Bloomberg Terminal.
LEARN MORE