Prosecutors Accuse South Korea President of Attempted Coercion
By
Investigation result may help shape fate of Park Geun-hye

Prosecutors wrap up probe into scandal after indicting 11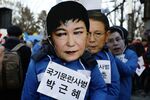 South Korean prosecutors on Sunday accused President Park Geun-hye of attempted coercion for allegedly colluding with a former aide to pressure an executive at a company to step down.
The claims, made in a statement concluding the investigation into the influence-peddling scandal that led to Park's impeachment Friday, will serve as important grounds in shaping the future of her presidency. The findings will also help decide her fate after she leaves office and loses her presidential immunity to prosecution.
The presidential Blue House declined to comment on the prosecutors' statement. Her office had earlier denied the allegations, calling the prosecutors' interim results in November work of speculation and imagination.
The nation's Constitutional Court has up to six months to rule on the constitutionality of the National Assembly's overwhelming decision to impeach Park. In the impeachment motion, lawmakers said their decision was partly based on prosecutors' earlier indictments that revealed Park's role in the scandal involving Park's former aides and longtime friend, the private citizen Choi Soon-sil.
Background on why Park was impeached
Hundreds of thousands of people have taken to the streets of Seoul and other big cities to demand her ouster. The political uncertainty has both disrupted policy making and has prompted big business to delay investment decisions, clouding the picture for Asia's fourth-biggest economy, already feeling the pinch from slowing exports and setbacks such as Samsung Electronics Co.'s decision to kill off its flagship Note 7 smartphone.
Statement Details
Prosecutors said that Cho Won-dong, a former aide to the president, tried -- on Park's behest -- to convince CJ Group Chairman Sohn Kyung-shik to get the conglomerate's vice chairman to resign. The chairman refused to comply, according to the prosecution's statement.
Park also colluded with Kim Chong, former vice minister at the culture ministry, and two other people to pressure Grand Korea Leisure Co., a company majority-owned by Korea Tourism Organization, to create a fencing team for the disabled, prosecutors said in the statement.

On Nov. 20, prosecutors said Park colluded with her former aides and that they have secured enough evidence to believe she played a role. They also said her old friend Choi extracted money from some of the country's biggest companies and gained access to classified information.
Wrapping up a two-month investigation, the prosecutors said they have indicted 11 individuals including Choi and three former presidential aides so far. Most of them have been arrested, they said.
The probe will be continued by special prosecutor Park Young-soo.
Before it's here, it's on the Bloomberg Terminal.
LEARN MORE