Fox-Sky $14 Billion Deal Talks Said to Hinge on Structure
By , , and
Fox said weighing outright bid versus 'scheme of arrangement'

Rupert, Lachlan Murdoch said highly involved in negotiations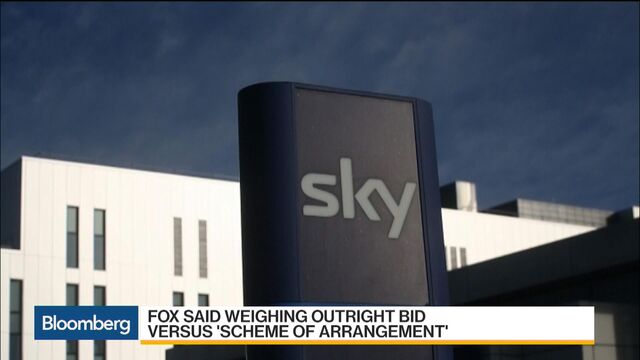 21st Century Fox Inc. and Sky Plc executives are working with their advisers to nail down final terms of an 11.2 billion-pound ($14.1 billion) deal that would consolidate Rupert Murdoch's television empire across two continents.
Fox's co-chairmen, the 85-year-old media baron and his son Lachlan, have been intimately involved in discussions to purchase the 61 percent of U.K. pay-TV service Sky that Fox doesn't already own, according to people familiar with the situation. Rupert's other son James Murdoch, who leads New York-based Fox as chief executive officer and is chairman of Sky, is also a key Fox negotiator.

While the preliminary agreement announced Friday has the backing of Sky's independent directors, some elements of the transaction remain under discussion. A key decision for Fox is whether to make an outright offer, or pursue a so-called scheme of arrangement, a structure that would involve U.K. courts but make it easier to mop up smaller Sky shareholders who refused to sell, said the people, who asked not to be named because the talks are private.
Friday's announcement was also silent on whether Sky's CEO, Jeremy Darroch, will stay on once the company becomes part of Fox. People familiar with the matter said the question was undecided but that Fox isn't in a rush to shake up Sky management.
Representatives of Sky and Fox declined to comment.

Sky shares slipped less than 1 percent to 991 pence at 2:56 p.m. London time on Monday, after advancing 27 percent on Friday. The price remains below the 1,075-pence offer, indicating investors see some risk a deal won't be completed. Fox slumped 5.6 percent to $26.64 in New York.
While merger rules allow Fox until Jan. 6 to make a final offer, the company is working to sew up a deal by late this week -- Wednesday at the earliest, the people said.
More Fox executives were heading to London over the weekend and principals from both companies will be there over the next few days as they work to seal a final agreement, the people said. They said Fox is unlikely to raise its offer and that no major shareholders have publicly opposed the price, 36 percent above Sky's close the day before the announcement.
James Murdoch isn't involved in Sky's evaluation of the offer, according to the people. Deputy chairman Martin Gilbert and senior independent director Andrew Sukawaty are leading the satellite broadcaster's negotiating team, they said.
The original price offered by Fox was at a premium of about 30 percent to Sky's market value, another person familiar with the situation said. The Sky team rejected it as too low, the person said.
Fox later last week came back with its current offer -- a 36 percent premium to Sky's closing share price on Thursday -- which the Sky negotiators considered fair, this person said. The Sky team took into account greater competition from the likes of BT Group Plc on sports rights and emerging competition such as Netflix Inc., according to the person.
Multiples of 13 times earnings before interest, taxes, depreciation and amortization are "attractive given some of Sky's ongoing challenges," Stephane Beyazian, an analyst with Raymond James in London, said in a note.
Mollifying big Sky shareholders and its independent directors by no means guarantees the deal an easy ride. At an October shareholder meeting, a significant minority protested James Murdoch's return this year as chairman, citing board independence and the possibility of a new Fox bid for Sky. The last one was derailed in 2011 by a hacking scandal that preceded James Murdoch's departure as Sky chairman in 2012.
For a timeline of the hacking scandal, click here.
One of those dissenting shareholders, Royal London Asset Management Chief Investment Officer Piers Hillier, reiterated Monday that James Murdoch's position as Sky chairman remains a conflict.
"It would have been preferable to have an independent chairman," Hillier said in an e-mailed statement. "The creation of an independent committee of the board, excluding James Murdoch, to consider the bid addresses some of the conflicts of interest, however it doesn't go far enough."
The BBC reported Monday that another Sky shareholder, Standard Life Investments, is pushing for a higher bid from Fox. Standard Life holds about 0.3 percent of Sky shares.
S&P Global Ratings and Moody's Investors Service said they may downgrade Fox's debt ratings because the transaction could increase the company's leverage.
Using a court-monitored scheme of arrangement would lower the bar for shareholder approval, though it's generally more expensive and must be finalized more quickly. With the court's backing, the proposal would require support from only 75 percent of shareholders other than Fox, making it easier to squeeze out Sky investors who dissent or don't vote. With a straight offer, Fox would need 90 percent shareholder approval to acquire all the Sky shares.
Prime Minister Theresa May has been eager to promote investment in the U.K. in the wake of the Brexit vote, leading some analysts to predict the deal will gain approval. However, the proposal has awakened Murdoch antagonists and resurfaced residue from the hacking scandal, which could become obstacles.
Critics lined up quickly to call on May to scrutinize the new agreement carefully. Memories of the phone-hacking scandal, which shook Murdoch's empire and exposed the seamier side of British journalism, remain fresh. Any move to concentrate media ownership could raise concerns about "plurality" -- diversity in the provision of news and entertainment.
"The way Theresa May's government deals with this is a test of their independence from the influence of large proprietors," said Vince Cable, who as business secretary under former Prime Minister David Cameron referred the previous takeover plan to regulators. "This poses a genuine threat to media plurality in the U.K., just as the bid six years ago did."
— With assistance by Eric Pfanner, David Hellier, Aaron Kirchfeld, Alex Sherman, and Matthew Campbell
Before it's here, it's on the Bloomberg Terminal.
LEARN MORE