Bill English Confirmed as New Zealand's Prime Minister
By
National Party selects Paula Bennett as deputy prime minister

Key's shock resignation won't alter government direction: BNZ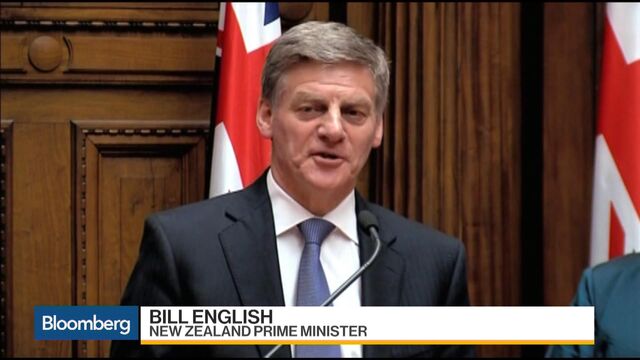 New Zealand's ruling National Party confirmed Bill English as its leader and the country's 39th prime minister, replacing John Key.
The 54-year-old finance minister and Key's preferred successor was the only remaining candidate after his two rivals pulled out of the race last week. There was overwhelming support for English among National's 59 parliamentarians, who officially endorsed him at a caucus meeting Monday in Wellington.
"This will be a government supporting economic growth and ensuring that the benefits of growth are widely shared," English told a news conference. "I will also seek to build on the international recognition earned by John Key for New Zealand's increasingly distinctive place in a global community as a successful economy open to trade, open to investment and immigration."
English inherits a party riding high in the polls, and he has a solid economic platform to campaign on ahead of a general election due late next year. But much of National's success during its eight years in government can be attributed to the popularity of Key, whose unexpected resignation last week shocked the nation.
New Finance Minister
National selected State Services Minister Paula Bennett to be deputy prime minister, while English has already said Economic Development Minister Steven Joyce will replace him in the finance portfolio.
The government's fiscal and economic policy direction is unlikely to change with English as prime minister and Joyce in the finance role, said Stephen Toplis, head of research at Bank of New Zealand in Wellington.
"It's been Bill English that's driven fiscal policy and he's not going to hand it over to someone he expects to do anything different," he said. "They might sell the policy differently, but I don't think the policy will be substantively different."
The government last week unveiled a half-year budget update that forecast rising surpluses and a stronger economy than previously expected, giving English the option of taking a tax-cuts package into next year's election campaign.
Strong Economy
The economy will expand 3.5 percent in the year through June and 3.4 percent the following year, while the surplus will jump to NZ$8.55 billion ($6.1 billion) by 2021 from NZ$1.83 billion in the year through June 2016, the Treasury Department said.
English is credited with getting the government's books back into the black after the global financial crisis, and with introducing a new targeted approach to social spending that seeks to identify potential problems and intervene early to stop them becoming costly.
Socially conservative, he said today he is a practicing catholic "and proud of it," and remains opposed to abortion and euthanasia. However, he has changed his view on same-sex marriage and now has no issue with it, he said.
Despite a strong economy and National's high poll ratings, English faces challenges.
He must contend with a housing boom that's locking first-home buyers out of the market and saddling others will huge amounts of debt, while the departure of Key may also make it harder for National to win a rare fourth term in office.
"Key's popularity meant he was able to deflect attention from some big issues that needed to be considered" such as pensions and housing, said Bronwyn Hayward, a political scientist at Canterbury University. "These are core issues that are electorally unpopular, but at some point a New Zealand government will have to face them."
Before it's here, it's on the Bloomberg Terminal.
LEARN MORE