Bond Traders Chase Fed Dots in Shift That Signals Higher Yields
By and
Steeper path of rate hikes seen following Trump's victory

Gap between market's view and Fed's is starting to narrow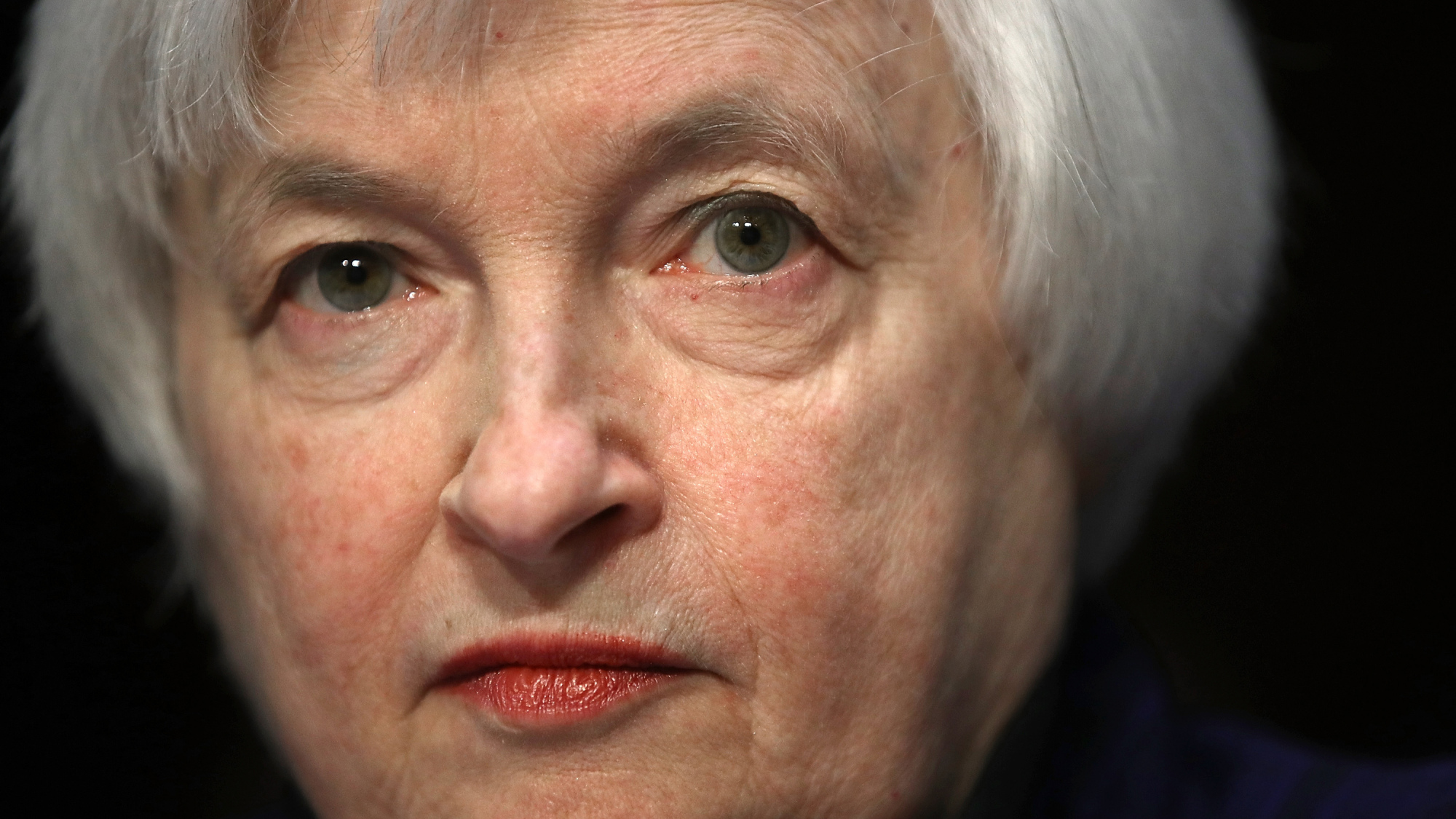 The fixed-income world is starting to catch up to the Federal Reserve's projections for interest-rate increases in coming years, signaling a swing in market sentiment that risks driving Treasury yields even higher.
Donald Trump's election victory has unleashed bets on stronger U.S. economic growth and led derivatives traders to begin pricing in a quicker pace of Fed hikes, a trend that investors see accelerating into next year. In a sign of the shifting view, the market's expectation for the Fed's long-run policy rate is now only about a percentage point below officials' forecast in their most recent "dot plot" update, the smallest gap since 2014.

Traders are moving closer to the Fed's view after signaling for more than two years that policy makers' projected path of hikes was too aggressive. Donald Ellenberger, head of multisector strategies at Federated Investors, is adjusting to the new landscape by reducing exposure to the risk of higher yields. At Societe Generale SA, one of the Fed's 23 primary dealers, the shift contributed to strategists' recommendation to bet against five-year notes in 2017.
"After two or three years of the dots going down to the market, the market is going to start moving up to the dots now," said Ellenberger, who's based in Pittsburgh. "Rates are likely to move higher, and we think any rallies are meant to be sold in Treasuries. Growth and inflation should be picking up."
The $13.9 trillion Treasuries market has already suffered a record rout since the election amid speculation that Trump will push through some of his proposals to boost infrastructure spending, trim regulations and cut taxes. Benchmark 10-year yields eclipsed 2.5 percent Monday for the first time since 2014, up from a record low of 1.32 percent in July.
Baked In
While traders have lifted their outlook for the policy rate, much of the narrowing relative to the Fed's view has come from officials lowering their own projections. The Fed's median forecast for the long-run rate -- a level policy makers deem consistent with full employment and stable prices -- was 2.9 percent in September, down from 4 percent in March 2014. Traders see it at 2 percent, judging by four-year-forward overnight index swaps.
A quarter-point hike this week is seen as a lock, and traders anticipate slightly more than one more move of that size in 2017 -- leaving the mid-point of the target-rate range at about 1 percent in a year. In September, the Fed signaled two increases in 2017 and three in 2018. The central bank releases new quarterly projections along with its policy decision on Dec. 14.
Economic data have surpassed market expectations in recent weeks, spurring bets on a quicker pace of hikes. Citigroup Inc.'s Economic Surprise Index is the highest since July.

Next year may bring more surprises, with inflation even exceeding the Fed's 2 percent target and potentially reaching 2.5 percent, said Neil Dutta, head of U.S. economics at Renaissance Macro Research LLC in New York.
"There's a risk that the market pushes the Fed to do more rather than less," Dutta said. He said the Fed probably won't respond very quickly and may even "lean against" the market by reiterating a gradual approach to tightening, a stance that Fed Chair Janet Yellen repeated last month.
Dutta sees 10-year yields reaching 3.5 percent in the next couple of years, a level not seen since 2011. The median forecast in a Bloomberg survey is for the yield to reach about 2.8 percent in the first quarter of 2018.

At Societe Generale, strategists see the five-year note absorbing the brunt of the selloff. They forecast the maturity's yield will rise to 2.4 percent by the end of 2017, the highest since 2011 and up from about 1.9 percent now.
Reality Check
Some investors doubt that the economy will benefit from the added stimulus right away. As a result, 10-year yields will probably stay below 3 percent next year, said Zane Brown, a fixed-income strategist in Jersey City, New Jersey, at Lord Abbett & Co., which manages about $125 billion.
"Given that it takes a while to get any of these things by Congress and then put to work, we aren't going to get much economic boost" in 2017, Brown said. "Two Fed hikes next year is realistically as aggressive as we can expect."
Policy makers are counting on employment gains to boost wages and inflation, which has been below the central bank's 2 percent goal for more than four years. The Fed's preferred inflation measure rose 1.7 percent for the year through October, the most since 2014. Separately, the jobless rate sank last month to a nine-year low of 4.6 percent.
"Yellen wants to broadly fall behind the curve," said Jim Caron, a senior fixed-income portfolio manager in New York at Morgan Stanley Investment Management, which oversees $406 billion. "Still, the Fed might be done lowering their dots. That is going to be sort of telling, as an inflection point."
Before it's here, it's on the Bloomberg Terminal.
LEARN MORE