Istanbul Hit by Two Explosions Near Besiktas Soccer Stadium
by
Suicide attack, vehicle bombing followed Besiktas soccer match

Attacks targeted police officers; suspects not yet known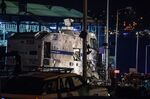 A pair of apparently coordinated bombings near Vodafone Arena in central Istanbul on Saturday night killed 29 people, almost all of them police, and left 166 others wounded, according to Turkey's interior minister.
The two blasts occurred around 10:30 p.m., more than an hour after the end of the match between Besiktas, the home team, and Bursaspor, at the 40,000-capacity stadium. The explosions could be heard across the city of about 15 million people, Turkey's most important cultural, historical and commercial hub.

The first explosion came from a moving, bomb-laden vehicle traveling in an area between the stadium and a building that also houses the Ritz Carlton Hotel, Deputy Prime Minister Numan Kurtulmus said in a news conference Sunday morning. The second occurred 45 seconds later when a suicide bomber detonated in the middle of a group of police officers around the nearby Macka Park, he said. Of the 29 people killed, 27 were police, Interior Minister Suleyman Soylu said.
Kurtulmus, Soylu and Health Minister Recep Akdag held a news conference Sunday morning after preliminary investigations in Istanbul, but didn't take questions or name any suspects. Ten people have so far been detained, Soylu said.
Some analysts linked the explosions to Turkey's military operations in Syria, where it is combating both Islamic State and Kurdish fighters linked to the PKK, a group that has been considered Turkey's main terrorist threat since the 1980s. Others, including some members of the ruling party founded by President Recep Tayyip Erdogan, linked the attacks to a proposal submitted earlier in the day on changing Turkey's parliamentary system to one that would further empower Erdogan's office.
Read More: Erdogan Inching Forward to Taking Executive Power in Turkey
In a statement issued about three hours after the attack, Erdogan said it didn't matter which group was responsible.
"All terror organizations are attacking our nation and our people for the same goal," his statement said, referring specifically to the PKK, Islamic State and the movement of U.S.-based Islamic preacher Fethullah Gulen, which the government says was behind a failed coup attempt on July 15. "Whenever Turkey takes a positive step with regards to its future, a response comes immediately before us in the form of blood, lives, savagery and chaos at the hands of terrorist organizations."
Before it's here, it's on the Bloomberg Terminal.
LEARN MORE