Gambia President-Elect Says Jammeh Has No Power to Cancel Vote
By
Jammeh cites voting irregularities for rejection of poll

U.S. State Department says about-turn is 'reprehensible'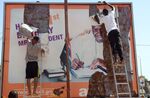 Gambia President-elect Adama Barrow said his inauguration will go ahead next month and that incumbent Yahya Jammeh held no authority to nullify elections a week after conceding he had lost a bid for re-election as leader of the West African nation.
Barrow spoke on Saturday after Jammeh told Gambians in an address on state-owned television that he no longer accepted the outcome of the Dec. 1 election, citing voting irregularities. Jammeh called for a fresh round of polls.
"I wish to inform all of you that the outgoing president has no constitutional authority to nullify the results of elections and set dates for elections," Barrow said in a statement on Saturday. "He is to hand over executive power to me when his term expires in January 2017."
On Dec. 2, Jammeh said he would vacate the presidency after losing to Barrow in the previous day's vote, signalling the end of a 22-year rule since coming to power through a coup in 1994. Criticized by human rights groups for brutally stifling dissent, Jammeh got landslide victories in four previous polls.
Tallied Incorrectly
Voters in some regions were prevented from casting their ballots while results were tallied incorrectly, Jammeh said.

The capital, Banjul, was calm on Saturday as soldiers patrolled the streets a week after citizens came out to celebrate Barrow's victory.
International condemnation of Jammeh's reversal are mounting.
"This action is a reprehensible and unacceptable breach of faith with the people of The Gambia," Mark Toner, a U.S. State Department spokesman, said in an e-mailed statement. It is "an egregious attempt to undermine a credible election process and remain in power illegitimately."
True Wish
Jammeh's statement "clearly goes against the outcome" of the elections, Federica Mogherini, the High Representative of Foreign Affairs at the European Commission, said in a statement on the block's website. African Union Chairwoman Nkosazana Dlamini-Zuma said Barrow's election was the true wish of Gambia's people, AFP reported.
The reversal came after courts in Gambia granted bail to opposition leaders who were serving jail sentences for participating in protests against Jammeh's rule earlier this year.
Barrow already started laying out future policy over the past week, saying he'll nurture new international relations and review economic plans in a country where thousands of young people are trying to emigrate each year.
Before it's here, it's on the Bloomberg Terminal.
LEARN MORE