World's Biggest Wealth Fund Girds for Rise in Political Risk
by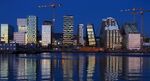 Investment risks related to political upheaval and climate change are on the rise, the world's biggest sovereign wealth fund warned.
"If you look at the physical risk issues, the stress is going to increase around the world, on the fiscal side as well," Dag Huse, chief risk officer of Norway's $870 billion wealth fund, said in an interview in Oslo on Friday. "Coupled with political uncertainties, that's of course an important issue. In isolation, all geopolitical developments are high on our agenda in general. It's something we discuss from day to day."
Huse declined to single out any particular political event in 2016, the year electoral results shocked observers with the U.K.'s decision to exit the European Union and U.S. voters choosing Donald Trump for president. Geopolitical risk has been especially high on the fund's radar starting with the financial crisis in 2008 and 2009, he said.
"That was really the eye opener," Huse said. "Countries changing politics overnight, countries that had a stable political situation, moving to another political situation."
The Brexit vote, and especially Trump's election, have sparked concern among investors across the world on issues ranging from trade protectionism to uncertainties over efforts to fight climate change, although stock markets have rallied since the Nov. 8 vote in the U.S.
Paris Accord
Norway's fund, which invests the country's income from oil and gas extraction in stocks, bonds and property abroad to avoid stoking domestic inflation, holds about 1.3 percent of the world's listed equities. While the fund has said its decades-long perspective allows it to look past the Trump presidency, opposition politicians have warned that the new administration's protectionist agenda could pose a threat to a move to boost its share in equities beyond the current 60 percent.
For now, Norges Bank Investment Management, the central bank unit that manages the fund, is "not speculating on what could happen" to the Paris agreement to mitigate climate change, which Trump has signaled he may discard. It's only relating to the international deal that was agreed to, Huse said.
Beyond Trump's campaign promises of disrupting the political order, the president-elect's Twitter feed has already proven to represent a risk -- negative or positive -- that needs to be factored in. Shares of Boeing Co. fell as much as 1.5 percent before regular trading on Tuesday after Trump complained in a tweet about the cost of new Air Force One jets, while the American depository receipts of SoftBank Group Corp. jumped 3 percent after he celebrated a $50 billion investment by the Japanese company in the U.S.
The Norwegian fund, which owns shares in Softbank but has excluded Boeing over weapons production, has no comment on Trump's Twitter use, Huse said.
But news and headlines, including from social media, are becoming a larger part of the fund's overall risk picture due to rapid changes in the dissemination of information, he said.
So does that mean the fund is reading Twitter every day? "Yes," Huse said, without offering more details.
Before it's here, it's on the Bloomberg Terminal.
LEARN MORE