U.K.'s Cameron Sees Euro in Trouble While Defending Brexit Vote
By
Euro has held back growth, ex-premier tells U.S. audience

Policy makers must face up to changes needed to stem populism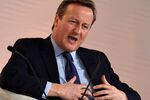 Former U.K. Prime Minister David Cameron told a U.S. audience that the euro area will face further turmoil because the joint currency has inflicted "decades of lost growth" on some countries, the Daily Telegraph said.
In his first major speech since resigning after the Brexit referendum in June, Cameron warned that the way the euro operates means weaker economies suffer because Europe lacks a unified tax system, the U.K. newspaper reported on Friday.
"I see more trouble ahead," Cameron was quoted as telling students at DePauw University in Greencastle, Indiana. "It is not working as it was intended. Some countries have seen decades of lost growth."
Cameron insisted he was right to call the Brexit vote, which his campaign to stay in the European Union lost by 52 percent to 48 percent, because the debate over the U.K.'s EU membership had "poisoned" British politics for 40 years. It's the first time that Cameron, who is writing a book, has commented in detail on the state of western politics since his defeat and the election of Donald Trump.
The Brexit vote and the U.S. presidential election show that the West needs to accept the international "unhappiness" about the impact of globalization on poorer people, requiring a "course correction" by political leaders, Cameron was quoted as saying. He blamed this rise in "populism" for ending his political career and predicted that democratic governments would respond by offering more help to people who feel left behind.
Before it's here, it's on the Bloomberg Terminal.
LEARN MORE