Trump Campaigns for Louisiana Candidate in Final Race of 2016
By
President-elect leans on campaign themes on spending, border

Republican Kennedy is in runoff for Louisiana Senate seat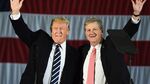 President-elect Donald Trump campaigned for the Republican candidate in the final race of the 2016 election, rousing a crowd with promises of spending $1 trillion on the nation's roads and bridges, closing U.S. borders and preventing companies from moving jobs overseas.
Trump reached back to the language his own campaign Friday in Baton Rouge, Louisiana, as he headlined a get-out the vote rally on behalf of Republican Senate candidate John Kennedy, who is in a run-off election Saturday.
"The forgotten people are not forgotten anymore," Trump told the crowd, who greeted him with chants of "drain the swamp," the slogan he's used to demonstrate his vow to change how Washington works and end what he says is a corrupt system. "We are going to defend every last American job."
Trump trounced Democrat Hillary Clinton by 20 percentage points in Louisiana. Kennedy, the state treasurer, is the favorite against Democrat Foster Campbell, a state public service commissioner, in Saturday's runoff. If he wins, that would give Republicans 52 seats in the Senate next year. Kennedy led Campbell 25 percent to 17 percent in the Nov. 8 first-round election, which eliminated 22 other candidates. The winner will succeed Republican David Vitter, who isn't seeking re-election.
'Tax Cutter'
While Trump lauded Kennedy as a "tax cutter" and "a fighter" at the beginning of his speech, most of his remarks were a reiteration of the themes the president-elect used in his own campaign. That included promises to eliminate restrictions on oil and gas exploration and ease the way for building more pipelines and refineries, issues with appeal to Louisiana voters.
He also raised again the prospect that U.S. elections are subject to voter fraud. He questioned early voting, which is allowed in 34 states and lets voters cast ballots without excuse before Election Day. While Democrats have pushed measures to make voting easier, Republicans in state legislatures have sought more restrictive identification requirements and limits on early voting.
"We have to take a look at this early voting," Trump said, suggesting that ballots could be tampered with at polling sites. "What's going on at night when those places are 'locked."'
Trump is scheduled to travel to Grand Rapids, Michigan, for a rally Friday evening, the fourth stop in what the Trump transition has dubbed a "Thank You" tour of swing states that supported him.
Trump was the first Republican candidate to win in Michigan since George H.W. Bush in 1988. Trump held his final rally of the presidential campaign in Grand Rapids.
Before it's here, it's on the Bloomberg Terminal.
LEARN MORE