Photographer: Keith E. Morrison/Bloomberg
Style
This New Men's One-Stop Supershop Is Dangerous for Your Wallet
And by that metric, Todd Snyder's New York Flagship (with bar and barber) is a huge success.
By
The measure of a good Manhattan menswear store is whether a fellow approaches it consumed with fear—fear that he won't leave without spending (pick a number) $1,000, $2,000, $10,000. Whatever is much too much.

By this metric, the new Todd Snyder New York Flagship at 25 Madison Square North is a huge success. Having received a tour from the designer himself earlier in the week, I entered on the store's opening day abjectly nervous. I knew the place would be thoroughly stocked with attractive items high and low—evening suits and sweatsuits, vintage Rolexes and fresh Timexes, fancy shampoos and spiffy shoeshine kits. I was confident in the quality and selection. What filled me with worry was how to explain to my children we were going to have to skip Christmas. 

Snyder, the 49-year-old creator of a five-year-old label, had told me that the svelte superstore "represented the brand and also the other brands that relate back to us." Representing them with aplomb, it sells $180 Drake's neckties on top of $900 Snyder-branded camel hair coats. He has a shrewd eye for the transporting retail experience, a skill surely honed earlier in his career at Ralph Lauren, the company that invented "lifestyle" as we know it. Getting out of the T.S. N.Y. Flagship without buying everything in the store is a special challenge, moreover, because everything in the store is for sale, including the 1stdibs furnishings and, in a way, the marketing experience itself. The current window display matches the outfits on mannequins to those on windowpane paintings by Luke Edward Hall, whose identical illustrations are for sale inside.

The Todd Snyder Style
The suits on the Todd Snyder rack offer a clue about who the Todd Snyder guy is. There's one cut. It's called "the Sutton suit" ($600 and up), a name that makes a gentle vague gesture both toward England and the Upper East Side. It's got two buttons, a notched lapel of uncontroversial width, a subtly slouchy shoulder, and a trim fit—slim enough to be cool but not so slim as to be too cool for school. The Todd Snyder guy is a regular guy who doesn't care about Fashion too much, but maybe after two cocktails from this store's in-house bar, he'll openly scoff at those actual regular guys who don't care about it at all. 


To be clear: There is a café/bar in this store. It's spun off from El Rey, which is one those self-described "luncheonettes" where you can wash down an avocado pita with a craft IPA. (The specialty cocktail at the store's opening party was a gin fizz involving, not untrendily, shiso syrup.) The commissary is on your left as you enter, and it is just the beginning of a cross-brand experience featuring, in 4,500 square feet, a tidy profusion of in-shop shops and more collaborations than all of Vichy France.
This was another reason that, on opening day, I felt especially vulnerable to emptying my wallet. The on-premises barbershop, Persons of Interest, is an extension of the place I already go to get my hair cut and buy my beard oil. The in-house optical shop, Moscot, already has my prescription in the system. The sales associate admired my boots, and I told him I'd got them at Cole Haan, and he reached up to retrieve a specimen from Snyder's collaboration with that firm.

The company encourages men to think of themselves as "urban poets" (writing sestinas in $2,498 shearling parkas) or"urban athletes" (shooting free throws Rick Barry-style in Snyder's $178 update of PF Flyers). Based on my personal experience, I detect another archetype in play—"Not Totally Uncool Brooklyn Dad." I'm tipped off to this by Snyder's collaboration with New Balance. Anthropological fieldwork suggests that New Balance sneakers are the most correct shoes for sitting on a bench at a Prospect Park playground, chatting with other dads about the people you know in common at the Yale School of Architecture.

It's Too Too
And this was, in the end, my saving grace. The Todd Snyder marketers were, it turned out, too tuned in to their audience, holding up a mirror to their carefully cultivated self-images under a bright, bright light. My self-consciousness about being Todd Snyder's ideal consumer ultimately served as a barrier against getting wrapped up in his skillfully built fantasy. One of El Rey's Shiso Fizzes would have loosened me up, but the bar wasn't yet open for regular business, thank God. Christmas was saved.

I was able to fondle a pair of shearling gloves from Dents with the detachment of a digital being strolling through the cyberspace of Mr. Porter. I was able to appreciate Snyder's vision of masculinity with a clinical eye—to enjoy the low-key Anglophilia of walls variously painted black ("wrought iron" is the exact shade) and hung with gray wallpaper ("charcoal flannel"). I was OK with the phallic symbolism of a vase filled with fetchingly fletched vintage arrows. As this kind of thing goes, the arrows are far more elegant than the many hatchets and axes we've seen in recent years. The store is dignified that way. My changing room had two demure photo portraits of Catherine Deneuve on the wall, in sharp contrast to the sleazy pin-ups on view in some other places.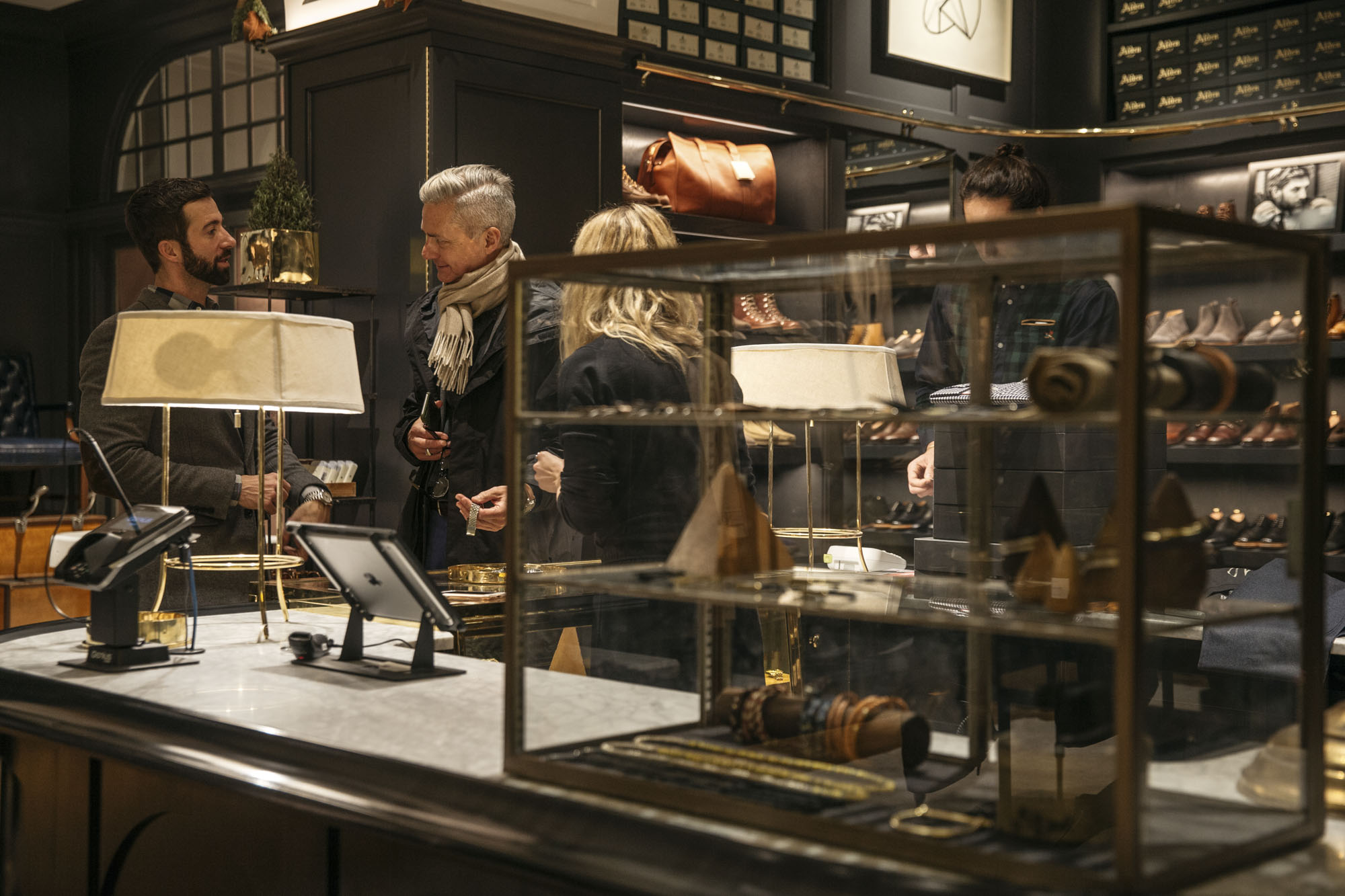 I was in there trying on my only purchase—a $55 T-shirt from a limited-edition line, Speakeasy, that pays homage to such classic Manhattan bars as Old Town and Walker's, authentically crusty joints that are like the reclaimed wood of the 21st-century cityscape. My new T-shirt honors the modified neon sign of the Ear Inn. I was slightly shocked to learn the sales staff didn't know where the Ear Inn is, or even what it is called. The dude at the register seemed to think it's called "BAR."
I mention this meaningless bit of ignorance only because Snyder had told me that the Flagship staff would serve not just as shop assistants, not just as guides to the Todd Snyder lifestyle, but also as "concierges to the city."
But, hey, it was the guy's first day. And Snyder's promise was the patter of a very smooth salesman who knew exactly what I wanted to hear. 

Before it's here, it's on the Bloomberg Terminal.
LEARN MORE