Russia Sees Trump More Committed to Terror Fight Than Obama
By and
Veteran foreign minister sets out terms for U.S. relations

Pro-Assad forces now control 93 percent of Aleppo, Russia says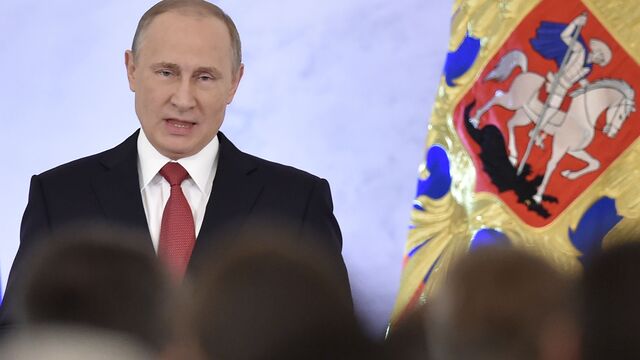 Russia reached out to U.S. President-elect Donald Trump, calling him a better ally in fighting terrorism than Barack Obama.
The Kremlin isn't waiting out the final six weeks of the Obama presidency and sees future relations with the U.S. as dependent on the "balance of our vested national interests," Russian Foreign Minister Sergei Lavrov said Friday in Hamburg. He suggested that a Trump administration will align more closely with Russian objectives.
"The commitment to fighting terrorism has been expressed much more clearly than the concrete actions of the Obama administration," Lavrov told reporters at a meeting of the 57-nation Organization for Security and Cooperation in Europe in the German city.
Trump made overtures to President Vladimir Putin on the campaign trail, calling for an alliance with the Kremlin to fight Islamic State in Syria and Iraq and hinting at easing sanctions against Russia. Putin has framed his military support for Syrian President Bashar al-Assad as a campaign against terrorism.
UN Resolution
On Friday, the United Nations General Assembly voted 122-13 in favor of a nonbinding Canadian resolution urging an immediate cease-fire in Syria. The vote came after Russia and China vetoed a Security Council resolution on Monday that would have ordered a seven-day cease-fire in the devastated city of Aleppo.
"We welcome the message sent by the membership in holding this meeting today, but in truth, only three members of this organization can bring an immediate end to the suffering and collective punishment: the Assad regime and their Russian and Iranian backers," said Matthew Rycroft, the U.K.'s ambassador to the UN. "We must use every tool at our disposal, including in this General Assembly resolution, to bring about an end to the suffering."
Russia-Turkey
Lavrov, who held talks with U.S. Secretary of State John Kerry on the sidelines of the OSCE meeting, expressed optimism about reaching a deal with the U.S. that could end the Russian-backed bombardment of Aleppo. U.S. and Russian diplomats and military experts will meet in Geneva on Saturday to thrash out a deal as forces backing Assad tighten their grip on the rebel stronghold.
Lavrov described the proposed deal as allowing anti-Assad militants under siege in eastern Aleppo to leave the city with their weapons, either to the Turkish border or to rebel-controlled Idlib southwest of Aleppo. He questioned whether the Obama administration had leverage over the rebel faction and said Turkey might be a more promising interlocutor.
"Maybe this channel of cooperation will be more productive than the one with the Americans," Lavrov said.
Kerry said Thursday he was "hopeful" a breakthrough could be reached. He'll attend a meeting of European and Arab allies on Saturday in Paris to discuss Syria.
Western powers are pressing Moscow to use its influence over its Syrian ally to push for an immediate cease-fire that allows humanitarian access to eastern Aleppo and a return to a political process. Lavrov said Syrian military operations had been suspended Thursday to allow some 8,000 civilians to escape, though such a truce couldn't be confirmed.
Air Strikes
Syria's six-year-old war, which has killed about 300,000 people and displaced millions, dominated discussions on the sidelines of the conference in Germany. Several hundred thousand civilians have been trapped in eastern Aleppo, sparking international condemnation of the Russian-supported assault. After gains of the past several weeks dislodged rebels from their eastern bastion, government forces and their allies now control 93 percent of the city, the Russian Defense Ministry said in a statement on Friday.
Air support has propelled Syrian forces and their allies deeper into rebel-held sections of the city, Syria's former commercial capital. The U.S., U.K., France, Germany, Italy and Canada issued a joint statement Wednesday condemning the assault and singling out Russia for preventing humanitarian access.
Capturing Aleppo, once Syria's biggest city, would hand Assad control of all major urban centers and mark a turning point in the war, which Russia entered in September 2015.
— With assistance by Kambiz Foroohar
Before it's here, it's on the Bloomberg Terminal.
LEARN MORE