New Ways to Clean Up Oil Fields Without Dumping Wastewater
Experimenting with techniques from desalination to inductive evaporation.
By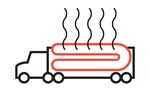 Earthquakes tied to oilfield wastewater dumping are a major problem in Oklahoma. This year the state has suffered more than 500 earthquakes of magnitude 3.0 or higher; from 2004 to 2008, the five years before the fracking boom, there were nine. So a handful of water management companies are experimenting with ways to reduce the pouring of drilling wastewater back into the ground. Cost is a principal concern, because existing techniques are expensive. The market for handling the water in Oklahoma is about $3 billion, according to consulting firm CAP Resources.
 
Mobile Evaporator
Innovator: Anurag Bajpayee
Title: Chief executive officer of Gradiant, a three-year-old, 50-employee company in Woburn, Mass.
MIT grad Bajpayee is building an automated evaporator that fits in a large, rectangular gray box on the back of an 18-wheeler. It's designed to release as much as two-thirds of the wastewater back into the air as clean water vapor, depending on the salt content. What's left will still be pumped back underground, Bajpayee says, or perhaps reused in some drilling operations. He says he's in talks with three drilling companies to deploy his first machine in Oklahoma early next year.
 
Inductive Evaporator
Innovator: Mike Keller
Title: President of Produced Water Technologies, a Tulsa startup with six employees
The Oklahoma entrepreneur, who's spent 40 years working on waste management technology for refineries and chemical plants, proposes to capture waste heat from pipeline compressors (he won't say how) to evaporate the clean water from drilling waste, meaning companies won't have to spend money generating that heat independently. Keller says he's aiming to cut the amount of wastewater sent back underground by about half.
 
Desalination
Innovator: Brian Kalt
Title: President of Fairmont Brine Processing, a four-year-old, 65-employee company in Fairmont, W.Va.
Kalt wants to build a plant to extract salt particles from wastewater and release the cleaned-up water into rivers. He says he can process a barrel of wastewater for $1.50, about what disposing of it underground costs. He plans to sell the extracted salt for use on icy roads, as a water softener in large industrial boilers, and to help keep coal piles from freezing in winter. Kalt, a former Marine officer who served in Iraq, already uses the process to clean water from natural gas wells.
 
Clean Enough for Fracking
Innovator: Clane LaCrosse
Title: CEO of Bosque Systems, a nine-year-old, 300-employee company in Fort Worth
Oklahoma native LaCrosse is the only one in the state already working to clean drilling wastewater. His company treats about 10 million barrels a month, using techniques like filtration to make it clean enough for his eight clients to reuse in their next wells. Fracking is such a water-hungry enterprise that Bosque never has any cleaned wastewater left unused, LaCrosse says. The company often has to add some freshwater to the recycled stuff.
Before it's here, it's on the Bloomberg Terminal.
LEARN MORE