Investors Flood Into European Financial ETF by Record Amount After Draghi's Non-Taper Taper
The banking frenzy heads across the Atlantic.
By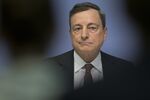 A U.S.-listed exchange-traded fund that owns Europe's largest financial firms saw investors rush in at a record pace on Thursday, after European Central Bank President Mario Draghi outlined tweaks to the central bank's asset purchasing program 
Inflows into the iShares MSCI European Financials ETF (EUFN) surpassed $137 million on the day, more than doubling its previous all-time high. Thursday's inflows were the sixth highest among U.S.-listed equity ETFs, boosting EUFN's assets by 35 percent.

Roughly 60 percent of this ETF's holdings are banks, with insurance companies making up another 30 percent. On a geographical basis, over 30 percent of the firms are based in the U.K. 
"The flows into EUFN show that reports of the death of the central bank trade are greatly exaggerated," said Eric Balchunas, ETF analyst at Bloomberg Intelligence. "This is hot money looking for another quick hit."
This product had already been on a tear in December: It was up more than 9 percent heading into Thursday's ECB meeting to reach its highest levels since January.
EUFN gave back ground yesterday as the euro weakened relative to the greenback (this ETF doesn't hedge against currency fluctuations) and amid heavy selling near the end of the session, even though its underlying index managed to inch higher and the European banking group performed very well in local-currency terms.
One measure of the German yield curve steepened by the most in eight years as the ECB removed its deposit floor for sovereign bond purchases and indicated it would lower its monthly asset purchases by 25 percent, to 60 billion euros per month starting in April. For companies in the business of maturity transformation, a widening spread between short and longer-term interest rates is a boon to profitability.