Here's How Korea's Impeachment Vote Will Affect Markets
By , , and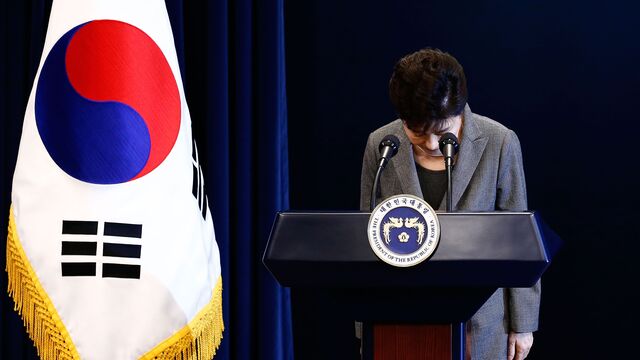 Here's what investors have to say about the likely impact on South Korean markets as President Park Geun-hye faces an impeachment vote this afternoon:
Markets snapshot:
Won touched its highest level in almost a month on Thursday
Kospi index of shares had its highest close since Oct. 25 on Thursday
Yield on 10-year bonds is poised to snap a four-week rally
* Tadashi Tsukaguchi, Specialised Research & Investment Group 's Moscow-based fund manager
"I don't agree with some view in the market that a change in the current administration would remove uncertainties."
Negative on South Korean stocks; whoever will be the next leader, there will be some challenges in their foreign policy and there will remain some geopolitical risks surrounding Korea, which makes us negative on their equities
* Jasslyn Yeo, JPMorgan Asset Management's global market strategist in Singapore
"We prefer to be long dollar against the Korean won."
The politics is challenging and growth in Korea has been weakening. Therefore, the Bank of Korea will probably continue easing just to help support growth; the fiscal side hasn't been that stimulative
* Binqi Liu, HSBC Global Asset Management's London-based portfolio manager
Regardless of whether Park is impeached or voluntarily steps down, a political vacuum is inevitable in Korea at least until mid-2017
"No political turmoil is good news, but it isn't expected to yield structural changes in the Korean political and economic structures -- at least for now."
For an export-based economy, the bigger shocks for Korea will be heavier downside risks on global trade and economic growth, such as greater tensions between U.S. and China or the disintegration of the euro zone and the European Union
* Michael Oh, Matthews International Capital Management LLC's San Francisco-based fund manager
Doesn't see the crisis fundamentally impacting or changing "how Korean companies operate on day-to-day basis."
Although this looks bad now, this scandal will call for more restructuring and might act as a catalyst to further improve the overall transparency of the Korean business and political culture
* John Vail, Nikko Asset Management Americas' New York-based chief global strategist
There's going to be a lot of political wrangling for a while and the result of that is unlikely to be negative for Korean corporates
No one has been bold enough to undertake a systematic reform of how conglomerates interact with government and there currently doesn't seem to be any reason for concern that Korean corporations are suddenly going to suffer greatly
Read more: A QuickTake on South Korea's impeachment vote
Before it's here, it's on the Bloomberg Terminal.
LEARN MORE