Inflation Views Might Jump-Start Bank of England Out of Neutral
By
Policy makers have said next move in rates could be up or down

Investors see higher borrowing costs as most likely next move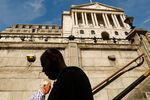 The Bank of England's finely balanced position on interest rates might be closer to a tipping point than it would like.
Governor Mark Carney's desire to keep supporting the economy as the U.K. adjusts to Brexit is being complicated by a growing inflation threat after a plunge in the pound. The extent of that risk was highlighted on Friday when a BOE survey showed consumer expectations for price growth have jumped the most in more than six years.
While policy makers say the next move in interest rates could be up or down, investors now reckon the former option is more likely by the summer of next year amid higher inflation expectations and the surprising strength of the economy in recent months. Britons have already been jolted by tales of price increases of household favorites including Marmite spread and Toblerone, and the risk is that second-round effects on consumer behavior or higher wages might force the bank to act. 
Inflation probably accelerated to 1.1 percent in November --- a level about half of its target. While the BOE sees a sharp pickup next year, to a peak of 2.8 percent in early 2018, it predicts price growth will ease after that. Some economists see inflation peaking sooner and higher, rising over 3 percent by the second quarter of next year.
"If there's a world in which inflation stays high, it's going to be very hard for the bank to ignore it," said Jagjit Chadha, director of the National Institute of Economic and Social Research in London. "It's too early to say that inflation expectations have been unhinged, but I still think it's a concern."

Carney and fellow policy makers have said they'll allow a period of "somewhat higher" inflation. But they've also said there are "limits" to that tolerance. They'll provide new insights into their thinking on Thursday when they publish their latest policy decision and record of the meeting.
In the BOE survey published Friday, consumers said they expected price-growth to average 2.8 percent in the next 12 months, up from 2.2 percent in August. Forty-one percent said the BOE's key interest rate will rise by next November.
Households' 5-year inflation expectations are at 3.1 percent, the BOE said. Investors are pricing in a similar overshoot. The break-even rate, a gauge of the bond market's outlook for U.K. price growth, has increased by almost a percentage point for five and ten-year measures since the vote in June to leave the European Union.

The near-hysterical reaction of some consumers and widespread media coverage of price hikes since the Brexit vote -- supermarket chain Tesco even temporarily pulled Marmite -- could also prove important.
"Psychology plays a huge role," said James Rossiter, an economist at TD Securities in London. "Inflation expectations tend to be formed on things people buy frequently."
The BOE's Monetary Policy Committee has been keen to stress that while inflation will accelerate, it should return to near the target eventually. Officials could also be constrained from combating inflation with tighter policy by a downturn in growth, especially if the deal negotiated between the EU and U.K. reduces trade and migration. 
That could leave the central bank in a bit of a bind.
Tolerance Limits
The limits to tolerating inflation will depend "on what is driving the inflation overshoot, on the impact on inflation expectations and on the scale of the output gap," Deputy Governor Jon Cunliffe said last month. "The exchange-rate shock has made it more difficult for policy to follow the natural rate."
The expectation of higher prices can prompt demand for higher wages. If a pickup in productivity growth doesn't also appear -- and it's been a long time coming -- that means a squeeze on the economy, with further implications for prices.
"If inflation is higher for longer and if then households and employees start acting on it to bargain for higher wages, that's a risk," said Fabrice Montagne, an economist at Barclays. Recent BOE comments have been to "mitigate the risk that inflation expectations might get deanchored or dislodged," he said.
— With assistance by Ainhoa Goyeneche, and Lucy Meakin
Before it's here, it's on the Bloomberg Terminal.
LEARN MORE