Germany Tells Investors to Steer Clear of Its Autobahns
by and
Proposal to open roads agency to insurance companies thwarted

Government revenue-sharing deal includes 'no privatization'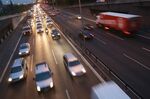 Germany's autobahn highways will remain off-limits for private investors under a plan for infrastructure spending backed by Chancellor Angela Merkel.
State governments thwarted a proposal by Finance Minister Wolfgang Schaeuble to allow insurers to buy into a new state company to manage federal roadways, which include the 13,000-kilometer (8,100-mile) network of autobahns that Germans and many foreigners treasure for its lack of a general speed limit.
Germany's financial industry would have been able to tap into as much as 300 billion euros ($318 billion) in investment opportunities over 30 years under Schaeuble's partial privatization plan. The outcome reflects public unease about private ownership of infrastructure in Europe's biggest economy, with 74 percent of Germans rejecting a road sale to investors in a poll in November.
"Keeping the autobahns from being sold was a decisive issue," Erwin Sellering, premier of Mecklenburg-Western Pomerania state, told reporters at a news conference alongside Merkel early Friday. There will be "no privatization and no losses for employees," he said.
Holger Kerzel, member of the management board at Meag, the asset manager that oversees 268 billion euros for Munich Re, said Germany should take a cue from France, where the government has opened national highways and waterworks to the private sector.
"As a general rule, Germany has too few infrastructure projects that allow private investment," Kerzel said in an interview.
Decades of relative neglect and "underfinancing" have left Germany's transportation network in "considerable" need of upgrades, requiring 300 billion euros of spending on maintenance and repair between 2016 and 2045, according to a December 2012 report.
Schaeuble Denied
Schaeuble, a Christian Democrat, lost out for now against some of the 16 state leaders and Social Democratic Economy Minister Sigmar Gabriel, who vetoed any partial privatization. Schaeuble pledged in October that the federal government would transfer about 9.5 billion euros per year to the states starting in 2020 as part of a broader shift in revenue sharing.
Revenue from road tolls on trucks and a proposed toll for passenger cars will be plowed into the infrastructure company under the accord. While constitutional amendments will be needed to set up the infrastructure agency envisaged, the federal-state accord is also expected to include safeguards against privatizing the agency or the autobahns. Merkel's government says it wants to pass the legislation in both houses of parliament next spring.
Before it's here, it's on the Bloomberg Terminal.
LEARN MORE