ECB Rejects Monte Paschi Bid for More Time on Capital
by , , and
Siena bank's board to resume meeting on Sunday afternoon

Paschi said to consider reopening debt to equity swap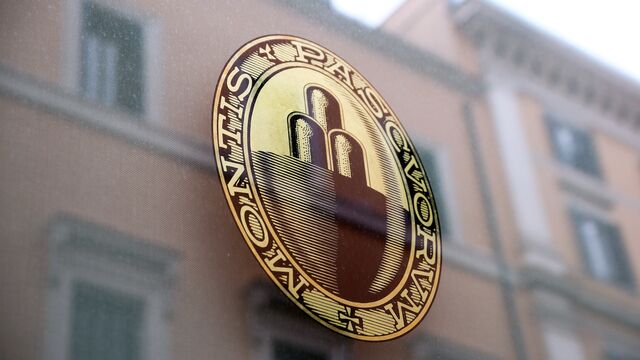 Banca Monte dei Paschi di Siena SpA is pressing ahead with its 5 billion euro ($5.3 billion) capital-raising plan even as Italy prepares a rescue package in case the troubled lender's proposal doesn't attract investors.
The European Central Bank decided on Friday not to allow the company to extend the deadline on the capital increase from the end of the year to Jan. 20, according to two people familiar with the talks. The bank's board, which met today to weigh its options, said it's proceeding with "activities to complete the capitalization plan" because it hasn't received any communication from the ECB, according to a statement from the Siena-based company. Monte Paschi adjourned the meeting to Dec. 11.
Monte Paschi is considering reopening the debt to equity swap to retail investors, who own about 2 billion euros of subordinated bonds, the people said. An increased funding participation from bondholders in the swap would allow the bank to get commitments from some private investors, while the banks arranging the deal would sell remaining shares on the market, according to the person.
Monte Paschi's board had asked the ECB allow it more time to raise funds privately and extend the deadline after Prime Minister Matteo Renzi's resignation this week left the country's leadership in a vacuum. Chief Executive Officer Marco Morelli has been racing to find investors for a three-pronged reorganization that would clean up the bank's balance sheet: a debt-for-equity swap, a share sale and the disposal of 28 billion euros of soured loans.
The bank is seeking permission from Italian market regulator Consob to eliminate some clauses that had discouraged some savers from participating in the debt for equity swap, the people said.
Capital Demands

Paschi shares dropped as much as 17 percent Friday, dragging down other lenders including UniCredit SpA and Intesa Sanpaolo SpA, which were among the worst performers on the Italian benchmark FTSE MIB Index. Monte Paschi's 369 million euros of junior notes due April 2020 fell more than nine cents on the euro to 51 cents, a record low, according to data compiled by Bloomberg.
Credit-default swaps insuring Monte Paschi's subordinated bonds against losses rose to a record, according to data compiled by CMA. It costs 4.7 million euros in advance to insure 10 million euros of the bank's junior bonds for five years. That's in addition to 500,000 euros annually and implies a 65 percent chance of default in the period, compared with 59 percent yesterday, the data show.
The challenge for regulators and policy makers will be containing any potential fallout so that the fate of Italy's third-largest bank doesn't dent confidence in other Italian and European lenders. Bondholder losses at four smaller Italian lenders rattled investors, many of whom are households, earlier this year. Italy's banks are burdened with about 360 billion euros in troubled loans, dragging down the economy by limiting lending. Five of the six worst-performing stocks this year on Italy's benchmark FTSE MIB Index are banks.
Troubled Loans
"There are two issues to deal with: Monte dei Paschi and the capital of small banks," Davide Serra, founder of Algebris Investments LLP, told Bloomberg Television before the ECB's decision was reported on Friday. "But we're talking about an absolute level of equity in the range of 10 to 15 billion euros," he said, adding that the bank isn't systemic.
A person familiar with the ECB's thinking said supervisors were wary that market conditions could deteriorate. Another person said the regulator was concerned that Paschi's liquidity situation would worsen if it waited to raise capital.
A spokeswoman for the ECB declined to comment. Reuters reported the decision earlier Friday.
Under European banking rules put in place in January, governments can only bail out lenders with taxpayer money if they also impose losses on stakeholders. That includes holders of senior bonds, a class of security that was largely unscathed during the financial crisis, which may be converted into equity if a bank's core capital levels fall.
A state rescue may not take the form of a full-fledged bail-in that would hurt the bank's many small-scale bondholders the most. Last week Monte Paschi Chief Financial Officer Francesco Mele told investors that "precautionary" state aid was a probable Plan B should private investors balk. Even though that would avoid a full wind-down of the bank by European regulators, known as a resolution, it would still force losses on creditors under so called burden-sharing.
Before it's here, it's on the Bloomberg Terminal.
LEARN MORE