Consumer Confidence in U.S. Surges Thanks to Optimism About Trump
By
Index of current financial conditions at highest since 2005

Survey chief says Trump needs to live up to expectations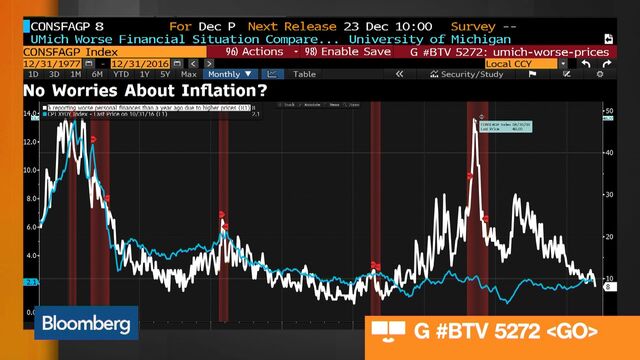 Consumer confidence jumped more than forecast this month as Americans expressed the sunniest picture of their financial situation in 11 years, extending a boost following Donald Trump's election victory.
The University of Michigan said Friday that its preliminary index of sentiment rose to 98, the highest since January 2015, from 93.8 in November. The median projection in a Bloomberg survey called for 94.5. The current conditions index, which measures Americans' perceptions of their personal finances, increased by 4.8 points to 112.1, the highest since 2005.
A record share of respondents "spontaneously mentioned" the positive impact from new policies, according to the survey, with more people expecting the economy and job market to strengthen in the coming year. At the same time, recent gains in confidence could prove temporary unless economic conditions improve under the new administration.

"President-elect Trump must provide early evidence of positive economic growth as well as act to keep positive consumer expectations aligned with performance," Richard Curtin, director of the Michigan survey, said in a statement. "Either too-slow growth or too-high expectations represent barriers to maintaining high levels of consumer confidence."
Presidential "honeymoons" tend to end in the months following inauguration, Curtin said on a conference call.
The two-month gain of 10.8 points was the most since early 2012. It marked the eighth December in nine years that sentiment has strengthened.
Analysts' Forecasts
Estimates in the Bloomberg survey of economists for the Michigan index ranged from 92.5 to 100. December's reading compares with the average of 91.3 in the first 11 months of this year.
The gauge of expectations six months from now rose to 88.9, the highest since January 2015, from 85.2.
If confidence is sustained, it will drive up spending, Ian Shepherdson, chief economist at Pantheon Macroeconomics Ltd., said in a note. Curtin said he was leaving his forecast for 2017 consumption growth unchanged at 2.5 percent "until specific policies are proposed."
Respondents expected the inflation rate in the next year will be 2.3 percent, the lowest since 2010, compared with 2.4 percent in November. Over the next five to 10 years, they project a 2.5 percent rate of price growth, down from 2.6 percent in the prior month.