China's Capital-Control Crackdown 'Particularly Worrying' for Businesses, Says George Magnus
Chambers of Commerce flag warnings
By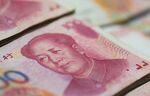 China's latest tightening in capital controls will deal a blow to the business climate in a country nominally trying to elevate the role of the free market, according to George Magnus, an associate of the Oxford University China Centre associate and former senior independent economic adviser at UBS Group AG.
The Communist leadership in Beijing had already gone well beyond traditional crackdown measures such as curbs on illegal cross-border money smuggling and fake invoicing of imports before its latest aggressive step. The government is planning to suspend several categories of Chinese companies' overseas acquisitions, and ban most foreign investments worth $10 billion or more, reports show. Authorities will now reject requests to bring the yuan out of the country for the purpose of swapping into foreign currencies without a valid business reason. 
"Corporations can and do move a lot of money more quickly and in larger volumes. Although Chinese consumers and households do find ways of evading the controls, I think really big outflows are coming through corporate activity rather than consumers," said Magnus on Bloomberg TV on Thursday.
The new tightening measures come amid the biggest slide in 10 months  for China's foreign reserves, the world's largest, and a slump in the yuan to an eight-year low against the dollar.

Acting ahead of an expected U.S. interest-rate hike next week, reports this week showed that the State Administration of Foreign Exchange had asked banks to submit for approval any capital-account transactions involving foreign exchange of $5 million or more.
The European Union Chamber of Commerce and the American Chamber of Commerce expressed concerns that Beijing's latest efforts will be disruptive for business operations.
Individuals already faced a $50,000 annual currency-conversion quota, and have faced efforts by authorities to prevent them from getting around that limit through creative measures like purchases of Hong Kong insurance contracts.
Magnus said corporations will be more targeted in tightening the "porous" capital flows.
The recent curbs are "particularly worrying" for corporations, including foreign businesses seeking to move dividends and profits out of the country for shareholders.
"These are going to be subject to much greater restrictions. American and European companies, I think, will be certainly worried about the drift of policy making at the moment," said Magnus.
Before it's here, it's on the Bloomberg Terminal.
LEARN MORE