Your Evening Briefing
Here are today's top stories.
Bloomberg News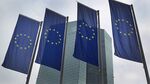 Imagine having so much cash that you never had to worry about any of that boring stuff, like paying attention to what you're spending.
At most big companies, such financial controls are standard operating procedure. But Google is no conventional company. Behind its quirky ethos, of course, was a wildly profitable business, meaning its "googliness" was made possible because of money. But the times, they are a-changin'. —Megan Hess
Google makes so much money, it never had to worry about financial discipline—until now. The Other Bets, the belittling term that Alphabet uses to refer to X and other business divisions not named Google, lost about $3.6 billion in 2015, roughly twice what they'd lost the year before. Now, Alphabet's CFO Ruth Porat, who joined Google in May 2015, wants to bring discipline and focus to the company, which never needed much of either before. Can the moonshot factory adapt?
The ECB's $2.4 trillion stimulus may not be enough. Mario Draghi, president of the European Central Bank, warned that the region's feeble inflation outlook means the stimulus won't end any time soon. U.S. stocks headed for fresh records, while the euro tumbled with bonds after Draghi's comments.
Facebook's investors criticized Marc Andreessen for a conflict of interest. In a lawsuit, shareholders say Andreessen was advising Facebook's CEO when he was supposed to be representing investors. "The cat's in the bag and the bag's in the river,'' the VC messaged Mark Zuckerberg at one point. "Does that mean the cat's dead?" Zuckerberg texted back, not understanding the spy speak. Andreessen replied: "Mission accomplished ☺"
Settle in for a long, cold winter. A chilling La Nina that threatens to push cold temperatures across the northern U.S. and extend drought conditions in the south will probably remain in the Pacific deep into the winter, fading away by spring, according to U.S. forecasters.
Police spy tools evolve faster than lawmakers can keep up. In the months after many called for Baltimore's surveillance program to be suspended, police have continued to use it. Several local lawmakers have stressed the need for more oversight of the program, but the administrative structure of the police department in Baltimore has complicated those efforts.
A woman will be the face on Canada's new bank note. Over Canada's history, most of the images on bank notes have been men, with the recent exception of Queen Elizabeth II—and now, with civil rights activist Viola Desmond, who will appear on the country's next $10 bill. Across the border, Harriet Tubman's (soon-to-be) face on the $20 bill is beaming.
The best books of 2016. Perhaps seeking to better understand the changes that shook our world this year, many leaders from the realms of academia, finance, industry, politics and technology turned to the pages of Hillbilly Elegy: A Memoir of a Family and Culture in Crisis, by J. D. Vance. Take a look at some of the other most popular choices in our annual survey of book recommendations.