Another Record for S&P 500 After ECB Boosts Stimulus; Banks Gain
By
S&P, Dow Industrial Average climb to record closing levels

ECB says it will expand quantitative easing at reduced pace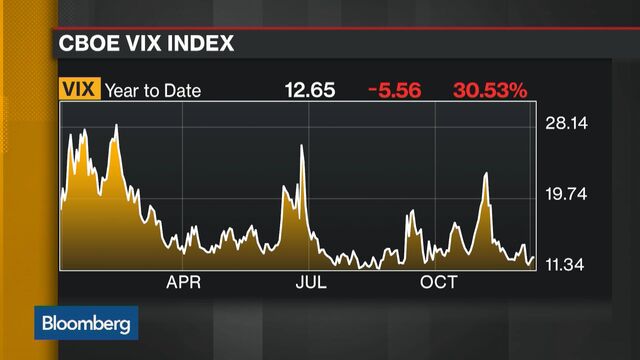 One month after Election Day, and the Donald Trump bull market is still going strong -- even if its contour is changing.
U.S. equities advanced for the fifth straight session Thursday with the S&P 500 Index hitting a record for the second day in a row and Dow Jones Industrial Average for a third. Rallies in financial and raw-material shares led gains as eight of 11 groups in the benchmark gauge climbed and small-cap stocks surged more than 1 percent for the third time this week.
The S&P 500 added 0.2 percent to 2,246.11 by 4 p.m. in New York after European Central Bank president Mario Draghi outlined changes to the region's stimulus plan. Global equities rose and bond yields jumped as the ECB said it will expand its quantitative easing program at a reduced monthly pace.

Leadership in the stock market continued to shift in the past week: while financial and industrial shares led the rally after the U.S. election, phone companies, tech shares and real estate stocks have all been on top at least one day this month.

VIX jumps 3.4% after climbing 3.7% Wednesday
Fewer Americans filed applications for unemployment benefits last week, reinforcing the picture of a healthy job market
"Global equities remain our asset class of choice, as key indicators of world economic strength are rising," writes Krishna Memani, chief investment officer at Oppenheimerfunds Inc. His company "no longer believes the Fed is going to be the deciding factor in how the remainder of the cycle plays itself out. Rather, they now look to the new president and his team, who will soon be taking the helm with their proposals."
ECB expanded its quantitative-easing program to exceed 2.2 trillion euros ($2.4 trillion) by the end of 2017, buying at a reduced monthly pace with the caveat that it can step up or prolong purchases if needed
Federal Reserve officials are set to announce a decision on interest rates on Dec. 14. Futures traders are pricing in a 100 percent chance they'll raise interest rates, compared with 68 percent odds at the start of November
For related equity market news:
— With assistance by Aleksandra Gjorgievska
Before it's here, it's on the Bloomberg Terminal.
LEARN MORE