markets
U.K.'s May Finds U.S. Ally in Brexit Tussle Over London Clearing
By and
Massad of U.S. CFTC says restricting clearing a 'mistake'

ECB cited financial stability as reason for clearing concern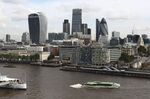 Prime Minister Theresa May has found a surprising ally as Britain and the European Union battle over London's vital clearing industry -- the U.S.
London is the dominant center for clearing euro derivatives -- a key financial service that the EU has long sought to relocate to a euro-zone country like France or Germany. Clearinghouses emerged again as a flash point after Britons voted to leave the bloc. But a U.S. official this week cautioned against forcing clearing to relocate.
"It is a mistake to restrict where clearing can occur," Timothy Massad, chairman of the Commodity Futures Trading Commission, said in a speech on Dec. 6. "Markets benefit from large pools of liquidity. Market participants benefit from managing as many of their transactions together as possible."
Clearinghouses stand between traders and collect collateral to prevent a default from spiraling out of control. Regulations since the 2008 financial crisis have heightened the importance of central clearing, making those operations a focal point in the financial system.
Because a swap in one currency may offset the risk of a swap in another, keeping them together in one clearing pool is seen as more efficient, saving bank and asset-manager clients money on collateral.

London Stock Exchange Group Plc is the majority owner of LCH, which dominates clearing of interest-rate swaps, a market where some $2.7 trillion of derivatives changes hands daily. LCH handles more than 90 percent of cleared interest-rate swaps trades in major currencies.
LSE Chief Executive Officer Xavier Rolet has repeatedly said it doesn't make sense to strip euro clearing away from the other major currencies. By one estimate, the savings from keeping LCH intact could amount to $77 billion.
"By splitting the market, it leads to higher costs for end customers such as pensioners," Jake Pugh, a derivatives consultant, said in an interview today. "Dealers will have to charge a higher price because it increases their expenses."
As the debate over clearing expands, the date for May to formally begin exit negotiations creeps closer. This week, May won lawmakers' backing to trigger Brexit by the end of March.
If forced, LSE may move its clearing operations to New York instead of Paris or some other EU city, Rolet has said. That could pit European leaders against their counterparts in Washington if they try to keep euro clearing inside their region.
The U.S. and EU already accept clearing of each other's currencies in each other's jurisdictions. Chicago-based CME Group Inc. clears billions in euro derivatives each day. Likewise, LCH clears more than $1 trillion in dollar-denominated swaps daily.
"If Europe were to insist that clearing of euro-denominated products cannot occur in London, does that mean such clearing cannot occur anywhere outside of Europe, including in the United States?" Massad said. Instead of restricting where dollar products are cleared, the CFTC requires overseas clearing firms to register and provide the CFTC with access, he said.
The European Central Bank has cited financial stability as a reason why euro clearing should stay within the bloc. For example, a regulator outside its jurisdiction, such as the Bank of England, could make decisions during a crisis that would benefit its own economy rather than the EU.
"It's the ECB saying: 'We don't trust the Bank of England to regulate LCH properly,'" Pugh said. "If you start introducing protections in reserve currencies, then you're going down a path of utter madness."
Massad acknowledged the need for regulators to have oversight.
"It can be valuable to have some degree of oversight into offshore clearinghouses," Massad said. "EU and U.K. officials will have to decide how to address these issues."
— With assistance by Will Hadfield
Before it's here, it's on the Bloomberg Terminal.
LEARN MORE