Russia in Syria Sustains Terror Threat to U.K., Spy Chief Says
by
U.K. security services have foiled 12 terror plots since 2013

Alex Younger speaking for first time from MI6 headquarters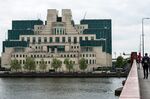 Unless Russia changes its strategy in the conflict in Syria, militants that thrive amid the insecurity will continue to pose a terrorist threat to Britain, the head of the U.K.'s Secret Intelligence Service said in a rare speech Thursday.
"Legitimacy is the strongest weapon against international terrorism," Alex Younger said in the first ever public speech to be made inside the London headquarters of the agency, also known as MI6. "The Russian conduct in Syria, allied with that of Assad's discredited regime, will, if they do not change course, provide a tragic example of the perils of forfeiting legitimacy."
Russian forces have been working alongside the troops of Syrian President Bashar al-Assad to oust rebels from the northern city of Aleppo. The Russian support for the regime runs counter to existing U.S. and European policy in opposing Assad and backing moderate rebel groups in a civil war that has dragged on for six years. Russian intervention in the conflict last year averted the regime's collapse and allowed Assad's military to regain the momentum. The Islamic State group, also known as Daesh, remains in control of parts of the country.
"The plight of the Syrians continues to worsen," Younger told journalists. "I cannot say with any certainty what the next year will bring. But what I do know is this -- we cannot be safe from the threats that emanate from that land unless the civil war is brought to an end. And brought to an end in a way that recognizes the interests of more than a minority of its peoples and their international backers."
Recruitment Drive
The U.K.'s three spy agencies have, in recent months, made an effort to put more of a public face on what they do as they look to recruit record numbers of agents. The pointed Russian remarks came in a speech that was less specific about other states and threats to the country's security. MI6, which has been dogged by image problems in the past thanks to its associations with elite education and class, has sought to encourage a more diverse recruitment process.
The threat of a terrorist attack within Britain remains "unprecedented," said Younger, who was appointed head of the agency in 2014. U.K. security services have foiled 12 terrorist plots since June 2013. "As I speak, the highly organized external attack-planning structures within Daesh, even as they face military threat, are plotting ways to project violence against the U.K. and our allies without ever having to leave Syria."
Western Europe remains on high terror alert after 18 months of fatal attacks in France, Germany, Belgium and Turkey that have all been linked back in some way to Islamic State.
Younger highlighted hybrid warfare as an increasingly dangerous phenomenon. "The connectivity that is at the heart of globalization can be exploited by states with hostile intent," he said, without naming particular countries. "They do this through means as varied as cyber-attacks, propaganda or subversion of democratic process."
Before it's here, it's on the Bloomberg Terminal.
LEARN MORE